STL Earth Day Action Grant Will Fund Webster Student Peer Educators Program
May. 2, 2016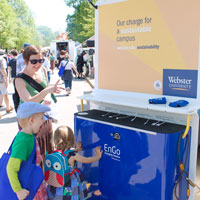 Webster University is one of 13 recipients of St. Louis Earth Day Action grants, thanks to a proposal for a sustainability peer education program that will take place during the Fall 2016 semester.
The St. Louis Earth Day Action grant will fund stipends for three students to serve a Gorloks Going Green (G3) peer educators during the term. The educators will be led by a project coordinator in the Webster University Sustainability office. Applications to be on the G3 Educator team will be open in May and candidate selections will take place over the summer.
The G3 Educators will work across campus departments, offices and student groups to provide a cross-campus learning and sharing opportunities for sustainability literacy at Webster.
Peer education is a education and outreach tool utilized by scores of higher education institutions and organizations. The program will offer the opportunity for G3 educators to develop presentation, organization and leadership skills while supplying Webster University's home campus with workshops, seminars and presentations on the definitions of behaviors and concepts regarding environmental sustainability. Peer education allows a more relaxed and comfortable atmosphere to learn within.
For more information about the upcoming G3 Educator program, contact Kelsey Wingo, Webster Univesity Sustainability Planner.
Grant recipients were honored on April 23, when the St. Louis Earth Day organization hosted a fundraiser and kickoff party to the 2016 Earth Day celebration - Earth Day Eve. At the Earth Day Eve fundraiser, recipients of the St. Louis Earth Day Action Grants were honored for their project proposals. Webster also had a booth communicating its sustainability efforts at the festival on April 24.
tags:  webster life, sustainability, students, webster today,
News by Topic
Tag Categories
News by Topic
Tag Categories