Snapshots: Webster Celebrates Advances at ISB 'Topping Out' Ceremony
Oct. 14, 2016

The "Topping Out" ceremony for the Interdisciplinary Science Building (ISB) on Oct. 14, 2016, celebrated a key milestone in the construction project of a new facility that will open in Fall 2017.
Representing the breadth of impact expected from the building, speakers included President Elizabeth (Beth) J. Stroble, Provost Julian Schuster, College of Arts & Sciences interim co-deans Jenny Broeder and Joe Stimpfl, and Student Government Association representatives Brenda Tinnemeyer and Andrew Young.
Watch a brief video of highlights from the ceremony below and share on Facebook here.
See more photos from the event in this Facebook album.
Several representatives from partners at Cannon Design and Paric were also present. The speakers recognized donors for their support, faculty, staff and students for providing input on the layout, and these partners who helped design and execute this major addition to the home campus.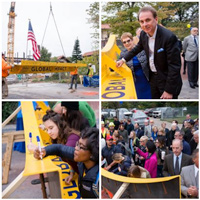 The practice of "topping out" a new building can be traced to ancient Scandinavian ceremonies. Originally, builders would place a tree on top of a new building to appease the spirits that may have been displaced by the construction process. Afterward, a toast or a meal would be offered to the workers.
This tradition has been adopted by other cultures around the world, and Webster offered its spin on the tradition Friday morning. Community members were invited to sign the beam in the hours before the ceremony and raising of the beam. An American flag and small spruce tree were placed on top of the beam before it was raised into place. Afterward, cake and beverages were served to the construction workers in Mary Ann Lee Plaza, where the ceremony was held.
See other photos and social media posts around the event on the Webster Twitter feed @websteru. Look for more photos and sounds from the event to come on Facebook and in future Webster Today coverage.
Follow construction updates for the building and the parking garage expansion at webster.edu/construction.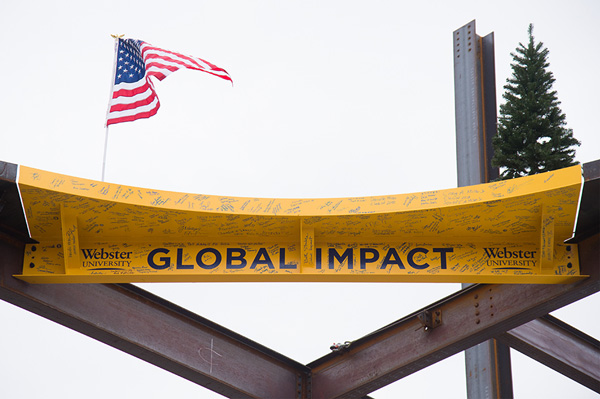 tags:  academics, college of arts and sciences, home page, employee news, faculty, webster life, webster today,
News by Topic
Tag Categories
News by Topic
Tag Categories