Webster University Hosts Urban League of Metropolitan St. Louis Lunch
Mar. 17, 2016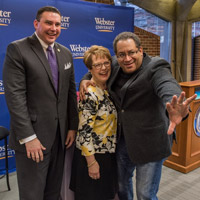 For the third consecutive year, Webster University hosted the Urban League of Metropolitan St. Louis lunch before the organization's 98th annual dinner meeting on Monday, March 14.
The annual luncheon, held this year in the Luhr Building, is an opportunity for guests to meet and hear from the year's speaker in a more intimate setting. Noted author and Georgetown sociology professor Michael Eric Dyson entertained the room in a Q&A moderated by Michael McMillan, president and chief executive officer of the Urban League of Metropolitan St. Louis.
Dyson is the author of 18 books, including texts on Malcolm X, Martin Luther King, Jr., Marvin Gaye, Bill Cosby, Tupac Shakur, Hurricane Katrina and his latest, "The Black Presidency: Barack Obama and the Politics of Race."
Urban League guests from across the country attended -- some engaged in a little pre-lunch chess in the home of Webster's Susan Polgar Institute for Chess Excellence -- as did members of the Webster University community.
Student Amber Davis, a Webster Presidential Scholar, was a guest at the head table that included McMillan, Dyson and Webster President Elizabeth (Beth) J. Stroble. A member of the Urban League and of their education committee, Stroble has forged Webster's partnership over the last several years, including support for the annual dinner meeting and as host and partner for last fall's conference on empowerment in education.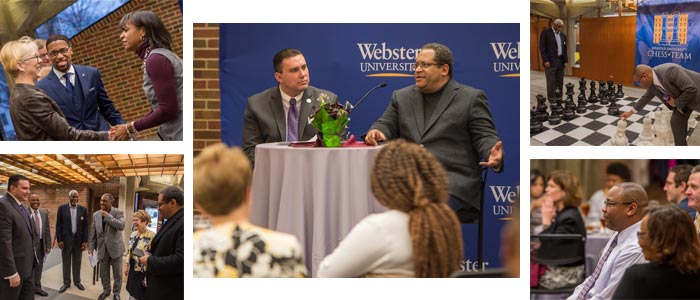 The Urban League of Metropolitan St. Louis exists to empower African Americans and others throughout the region in securing economic self-reliance, social equality, and civil rights.  The Urban League of Metropolitan St. Louis, Inc. takes a holistic approach to economic empowerment and self sufficiency. Through community programs in three counties across the bi-state region, it helps its clients to climb out of poverty by helping them to find economic opportunity, providing educational excellence and community empowerment and encouraging civil rights and advocacy
tags:  president, community engagement, webster life, diversity and inclusion, partnerships, webster today,
News by Topic
Tag Categories
News by Topic
Tag Categories