Musical 'Alma' Previews Webster Wenkheim Wednesdays, Opening Doors to Community
Apr. 8, 2016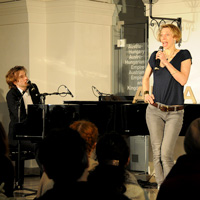 Webster Vienna was host to its first-ever musical on Wednesday, March 30, in a teaser for the "Webster Wenkheim Wednesdays" series of events that will to take place beginning Fall 2016 to increase cultural outreach from the campus.
The performance and forthcoming series is, as Webster Vienna director Bernd Marin explained, "an opportunity to open the doors to the community of the 2nd district and merge university education with cultural events."
Over 90 guests in the atrium of Palais Wenkheim, home of the Webster Vienna campus in the city's 2nd district, were treated to "Alma und das Genie," a satiric musical with two performers about the life of Alma Mahler-Werfel.
Werfel is a famous figure in Viennese history, as she was the muse and wife to many important creative geniuses of her time. Born in 1879, she was there when the Art Nouveau movement became hip and through her father, a well-known painter himself, she had connections to the artistic world from an early age on.
Her lust for life and her beauty made her much sought-after and she was close to many of the most influential creative people at the time, from famous musicians (Gustav Mahler and Alexander Zemlinsky) to painters (Gustav Klimt and Oskar Kokoschka), novelists  (Gerhard Hauptmann and Franz Werfel) and architects (Walter Gropius) – she was one of a kind. Married three times, she fled Europe with her third husband, Franz Werfel to escape the Nazis and finally settled in the U.S. where she died in 1964.
So 50 years following her death, Tom van Hasselt wrote the "Alma und das Genie," which won the prize for best lyrics at the "German Musical Theatre Price 2015." They are on tour now with this musical throughout Germany and Austria.
Nini Stadlmann, who performs Alma, was extremely pleased to perform in Vienna and especially in the 2nd district, as she is native Viennese and she told the audience that her father was born just around the corner from Webster Vienna.
See more photos from the event in this Flickr album. Community members at Webster Vienna hope the event set a great tone for future events in the "Webster Wenkheim Wednesdays" series.
tags:  academics, global, webster life, vienna, community engagement, arts, webster today,
News by Topic
Tag Categories
News by Topic
Tag Categories