Vienna's Study Program Preps Students for Finals Week
May. 26, 2016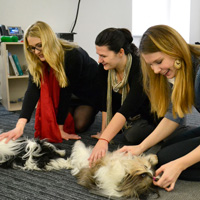 The library, writing, quant and counseling center at Webster Vienna offered a weeklong program during the final week of April to support students, staff and faculty during the busiest time of the semester.
Highlights were the therapy dogs' visit, the 2nd "Night Against Procrastination," multiple relaxation sessions as well as the extended library opening hours.
Therapy dogs reduced students' stress
On Monday, Tashi, Delek and Anthony, three certified therapy Shih-Tzus, showed off their tricks and enjoyed the cuddles from the 30 participants that attended the library's event sponsored by the Student Government Organization. The interaction with the four-legged guests had immediate effects on the participants: a before-after comparison showed that for almost all of them the current stress level went down.
2nd Night Against Procrastination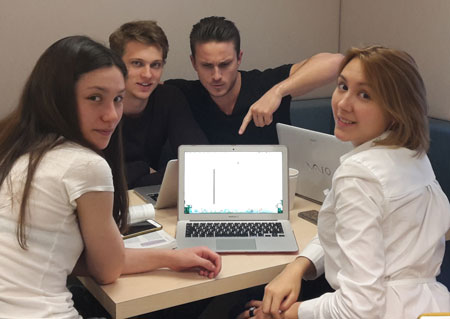 Tuesday the Writing Center organized Webster Vienna's second Night Against Procrastination with an even greater student turnout.
The event provided a comfortable study space for students at a critical point in the semester.
Reference librarians and assistants, writing center and quant center tutors, and counseling center staff were available until 10 p.m. to work with students to help them make progress with their papers and assignments, as well as offer study sessions for their exams. 
Keep calm and study on: Relaxation sessions and extended library hours
Tuesday and Wednesday Webster Vienna graduate psychology students Jovana Popovic and Denitsa Batsova presented helpful and easy techniques to reduce stress when under pressure. In guided relaxation sessions, students and staff members learned how to effectively use breathing exercises, calming thoughts and muscle relaxation to cope with stressful situations.
Finally, up until Thursday, the library had extended opening hours until 9.30 p.m. Many students used the opportunity to study for their exams or finish their papers and presentations in an encouraging environment with library staff ready to assist them.
tags:  academics, global, webster life, students, vienna, writing center, library, webster today,
News by Topic
Tag Categories
News by Topic
Tag Categories