Webster 360 Site Launched for Prospective Students
Jan. 12, 2016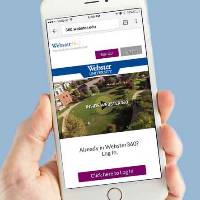 ST. LOUIS - Webster University has selected Evolution Labs' S360™ engagement products to change the way prospective and admitted students and their parents experience the college admission and pre-matriculation process. S360 enables colleges to immerse prospective, admitted and current students in highly engaging web and mobile-based experiences designed to foster a meaningful affinity between student and school and to impact learning outcomes and student success. Webster launched the S360 Recruit and Recruit: Parents module this month as well as the Yield and Yield: Parents modules in December.
"Webster has long understood that the key to engaging today's millennial students is providing them with content that is tailored to their personal interests," said Peter Kraft, co-founder at Evolution Labs. "We believe that the university's choice of Suite360 as its digital engagement platform for prospective and admitted students and their parents is a testament to its ability to provide highly relevant digital experiences at critical junctures in the admission lifecycle."
Using a website and a corresponding mobile device app, S360 provides prospective, admitted and current students with highly individualized content tailored to the criteria and interests they find most relevant — from academics and faculty to campus location, size and personality of the school. As prospects and admits learn more about Webster through expert-written topics, engaging videos and surveys, they can also interact and "shadow" current students, view Webster's social media feeds in real time and share their interest in Webster by connecting program features with their preferred social networks — all on a single platform.
S360 also utilizes a proprietary algorithm designed to determine propensity of prospects and admits on a multifaceted spectrum that considers academic, financial and lifestyle fit. Engagement insights are delivered back to the school in real time, arming them to make better communication and enrollment decisions.
"Evolution Labs' approach to recruitment technology is student-centric," said Robert Parrent, vice president for Enrollment Management at Webster University. "Their platform will help the university build stronger relationships with prospective and admitted student and their parents by providing an experience that they find personally compelling."
Visit the sites for prospective students or their parents.
About Evolution Labs
Evolution Labs is changing the way students engage with schools and the way schools engage with students. Its proprietary software platform helps schools recruit, enroll and retain students and their parents (driving inquiries, apps, yield and retention). The company's S360 engagement platform provides institutions with technology and a highly immersive content experience to better connect with students while driving more
successful educational outcomes. Learn more at http://www.evpco.com.
About Webster University
With its home campus in St. Louis, Missouri, USA, Webster University (www.webster.edu) comprises an action-oriented global network of faculty, staff, students and alumni who forge powerful bonds with each other and with their communities around the globe. Founded in 1915, Webster is a private non-profit university with almost 20,000 students studying at campus locations in North America, Europe, Asia and Africa and in a robust learning environment online. The university is committed to delivering high-quality learning experiences that transform students for global citizenship and individual excellence. Learn more at http://www.webster.edu.
tags:  academics, featured, home page, webster life, webster today,
News by Topic
Tag Categories
News by Topic
Tag Categories