School of Communications Offers Adobe Creative Cloud Seminar Series in Fall 2017
Mar. 29, 2017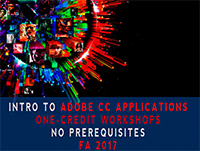 The School of Communications will offer a series of weekend, one-credit seminars that introduce students to several Adobe applications starting in the Fall 2017.

The courses are prerequisite-free, open to anyone at Webster, and will meet Friday from 5:30-9:30 p.m. with a full day on Saturday.
The courses will be offered early in the semester so that students are able to utilize the skills in their respective courses immediately in the fall semester.
Schedule of Courses
Sept. 8-9: EPMD 2000 01: Photoshop: Image editing and compositing.  
Sept. 15-16: EPMD 2000 02 Illustrator: Vector graphics and illustration. 
Sept. 22-23: EPMD 2000 03: InDesign: Page design and layout for print and digital publishing. 
Sept. 29-30: EPMD 2000 04: Premiere Pro: Video production and editing. 
Oct. 6-7: EPMD 2000 05: After Effects: Cinematic visual effects and motion graphics. 
Oct. 13-14: EPMD 2000 06: Audition: Audio recording, mixing, and restoration. 
tags:  school of communications, webster today, adobe creative cloud, media production, students, employees, faculty,
News by Topic
Tag Categories
News by Topic
Tag Categories