Academic Resource Center Summer Session Hours
May. 17, 2017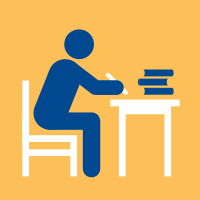 The Academic Resource Center (ARC) team members will be available daily throughout the summer and want to visit with you, your departments, and your classes to share information about the programs and services as well as new and exciting Webster initiatives with which they work.
The ARC will be open Monday through Friday, May 29 to August 4 for the summer session.
Testing Center, Tutoring Center and Writing Center Summer Hours:
The Testing Center summer hours are 9 a.m. - 7 p.m. Mondays and Wednesdays and 9 a.m. to 4:30 p.m. Tuesdays, Thursdays, and Fridays.
The Tutoring Center is available to students throughout the summer. To inquire about tutoring or to request a tutor, please email the Tutoring Center at tutoring@webster.edu.
The Writing Center summer hours are 10 a.m. - 4:30 p.m. Monday through Friday. Evening and weekend hours will resume for the Fall 2017 semester.
Department meetings are a great time to invite ARC team members to share more about Webster's new academic integrity initiative and awareness campaign, academic counseling and Gorlok Grit Huddles (brief workshops on topics such as managing time in stressful situations, adjusting to change in college, understanding academic expectations, game plans for finals, and more), ADA accommodations, Webster's Prior Learning Assessment initiative, and the Plagiarism Prevention Program.
To schedule a classroom visit or a meeting, please contact Dr. Carolyn I. Brown, Writing Center and Plagiarism Prevention Program Coordinator, at carolynbrown04@webster.edu or at extension 7668.
For more information about any of the Academic Resource Center's services, please visit the ARC website at http://www.webster.edu/academic-resource-center/.
tags:  academics, faculty, webster today, students, academic resource center,
News by Topic
Tag Categories
News by Topic
Tag Categories