Webster Supports 2017 Arts, Education Workplace Giving Campaign
Apr. 18, 2017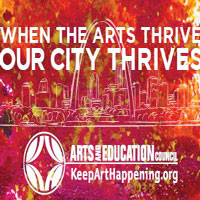 The arts are vital to our region, making St. Louis a great place to live. Whether it's music, dance, theatre, film, literary or visual arts, the arts continue to teach us and inspire us, and for over 50 years, the Arts and Education Council (A&E) has been shaping a vibrant arts community throughout the bi-state St. Louis region. 
Chances are you've experienced an event supported by A&E. Whether you visit the Sheldon, wander the grounds of Laumeier Sculpture Park, or attend a performance of the St. Louis Symphony, there are so many ways to enjoy the arts in our region. A&E also supports many of the events occurring on the Webster campus including concerts and classes at the Community Music School, productions at The Repertory Theatre of St. Louis, and summer performances at Opera Theatre of Saint Louis.
The arts play a role in adding value to our community, which is why Webster is a proud participant in the Arts and Education Council's 2017 Annual Campaign.
Please show your support by contributing to this worthwhile effort. A gift of any amount is appreciated, and your contribution can be made through payroll deduction. To thank you for a donation of $50 or more, you will receive A&E's ARTS Card, which provides access to discounted cultural events throughout the area, including 2-for-1 admission to select events. We will also be raffling off A&E items throughout the month of giving, and there's also a chance to win a reserved parking spot for one week. 
How to Contribute
Online Contributions: Visit http://keeparthappening.kintera.org/websteru/2017 to make an online. Then click on the "GIVE NOW" button at the top for a one-time donation, or click on the "Payroll Deduction" button located under the Gorlok icon if that is your preference.
Paper Pledge: If you wish to use a paper pledge card, contact Alexandra Winters to obtain a donation form. Pledge cards can be picked up and turned in at the Office of the Dean, Leigh Gerdine College of Fine Arts, Music Building, room 103. 
Thank you
Your gift of any size helps to ensure that St. Louis remains a unique and vibrant place that attracts talent, educates our children, and enriches our lives. Thank you for your thoughtful consideration to support the Arts and Education Council. Together, we can KEEP ART HAPPENING throughout the region. 
tags:  webster life, webster today, college of arts and sciences, employee news, community engagement, faculty,
News by Topic
Tag Categories
News by Topic
Tag Categories