Webster Hosts Beepball Game in Honor of Disability Awareness Month
Sep. 25, 2017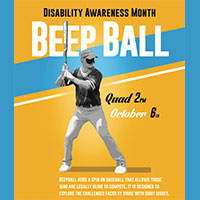 Described by blind athletes as "a dream come true," Beepball adds a spin on baseball that allows those who are legally blind to compete. There are six innings per game and three outs per inning. Each player is blindfolded, except the pitcher and catcher. It's all about rhythm, timing, and trusting your senses; you must play this game by ear. Players are guided by sound, not sight: the sound of the beeping ball, buzzing bases, and cues from the pitcher.

MindsEye provides an annual Beepball Tournament every summer and now they're bringing the fun to Webster University. This event is sponsored by the Webster University's Academic Resource Center and Webster University's Multicultural and International Student Affairs departments. For the athletes, Beepball is much more than just a game. It brings together all kinds of people, personalities and athletic abilities, and puts them on an even playing field. A game to be played by the blind and the sighted cooperatively. That's what makes Beepball truly special.
The game will be played on the University Center Quad at 2 p.m. on Friday, Oct. 6. Faculty, staff, and students interested in playing can sign up in the MCISA during normal business hours.
For more information, contact Shelley Wolfmeyer (shelleywolfmeyer@webster.edu), Cindy Yamnitz (cynthiayamnitz36@webster.edu), or Corey Hawkins (coreyhawkins90@webster.edu).
tags:  webster life, webster today, mcisa, academic resource center, students, disability,
News by Topic
Tag Categories
News by Topic
Tag Categories