Bill Nye to Speak at Webster University [SOLD OUT]
Sep. 20, 2017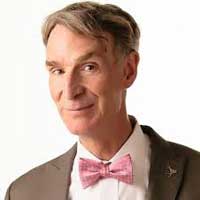 ST. LOUIS - Author, educator and television personality Bill Nye is
scheduled to speak at Webster University on Monday, Oct. 16, 2017.
UPDATE: This event is sold out.
Bill Nye, most well-known for his award-winning educational science program Bill Nye the Science Guy, graduated with a Bachelor of Science degree from Cornell University. In his early
career, Nye worked as mechanical engineer at Boeing Corporation where he developed hydraulic resonance suppressor tube still used in Boeing 747 airplanes today.
In 1986, Nye left Boeing to pursue a career as a performer and comedy writer on Almost Live. Thereafter, the famous role Bill Nye the Science Guy began. Bill Nye the Science Guy ran for five years and won 19 Emmy's, seven of which were awarded to Nye himself for writing, performing, and producing the show. Ever an advocate for science, upon the shows conclusion,
Nye focused his efforts in furthering space and climate change education. Nye has written several science education children's books and two best-selling books including Undeniable: Evolution and the Science of Creation in 2014 and Unstoppable: Harnessing Science to Change the World in 2015 . Bill Nye makes frequent media appearances and has since returned to television in his new Netflix show Bill Nye Saves the World.
Media requests must be submitted in writing to Jennifer Stewart by Monday, Oct. 9, on
company letterhead for consideration by the artist.
UPDATE: This event is sold out.
Beginning Monday, Sept. 18, current Webster University students can pick up one free
ticket at the University Center Information Desk with a valid Webster ID. Public admission is
$20 and Webster University faculty, staff, and alumni are $10. Faculty, staff, and alumni have a
limit of two ticket purchases for the price of $10. This event is sponsored by Webster University
Campus Activities and the Student Activity Fee. This event will take place October 16th in
Loretto Hilton Center. Doors will open at 6 p.m., the show will begin at 7 p.m.
tags:  home page, president, provost, webster life, student activities, student affairs, webster today,
News by Topic
Tag Categories
News by Topic
Tag Categories