Five-Time National Champion Webster University Chess Team Honored by City of Webster Groves
Apr. 21, 2017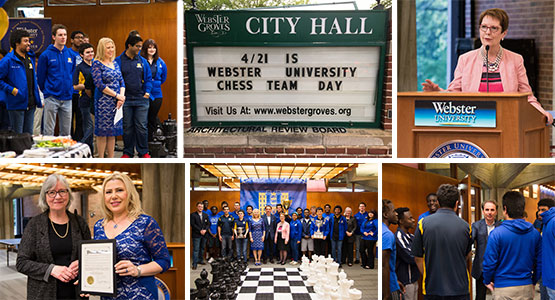 "This is about much more than trophies."
As the community honored the five-time national champion Webster University chess team, President Beth Stroble and Provost Julian Schuster each took the opportunity to highlight team members' contributions beyond the intense competition at the chess board, recognizing what they add to the campus community and to local schools, where they've made connections with and inspired students in local K-12 schools.
The team was honored at an on-campus event in the Luhr Building on Wednesday, where Webster Groves Mayor Gerry Welch also announced the official proclamation that Friday, April 21, was declared Webster University Chess Team Day in Webster Groves.
Since Webster's team was founded five years ago by head coach Susan Polgar -- who herself has now coached a record seven consecutive national collegiate championship teams -- it has included Webster students from 23 countries. The current squad represents 10 countries and six U.S. states, from California to South Carolina and Azerbaijan to Vietnam.
Some students who completed undergraduate degrees while Webster chess team members are on this year's team after returning or continuing to pursue graduate degrees.
Collectively, their success in winning an unprecedented five consecutive national championships in the President's Cup, or "Final Four of Collegiate Chess," has raised awareness of Webster University nationally and internationally. But their work in local schools, in on-campus events, and assisting in tournaments like the annual Susan Polgar Foundation Girls' Invitational -- where one team member, Mercado Mendoza of Colombia, first learned of Webster -- have made invaluable local connections while impacting lives beyond Webster.
"Our team members come from so many different places, often very far from home, that I've always tried to treat it like a family," Polgar said, acknowledging congratulatory remarks from Stroble and Schuster. 
That family extends around the world, and on Friday it formally includes the city Webster University has called home since 1915.
tags:  global, home page, president, provost, home page, chess, students, webster life, webster today,
News by Topic
Tag Categories
News by Topic
Tag Categories