CMS Presents Explore Music! SPAIN on Feb. 12
Feb. 3, 2017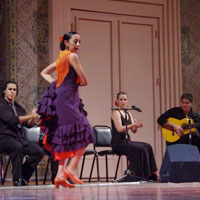 The Community Music School at Webster University presents Explore Music! SPAIN on Sunday, Feb. 12, from 12:30-3 p.m., at the East Academic Building. The event will share the history of Spanish and Flamenco dance, Flamenco music and dance, Spanish cuisine and cultural activities and crafts. Admission is free.
Flamenco has been described both as a way of life and a fusion of cultures, as expressed through music, dance, and song. Its roots are in the multiple cultures of South Spain. 
The St. Louis Cultural Flamenco Society will be our guide on our journey to Spain, with these guest artists:
Marcos Jimenez, internationally known Flamenco artist, native of Seville, Spain
Liliana De La Caridad Fagoaga, native of Cuba, trained in all three forms of Spanish dance
Esther Pardo from Murcia, Spain, danced as a soloist and principal roles in Spain, Cuba, France and Germany
Edwin Suarez from Colombia, studied and share the stage with great artists from Spain
Macarena Jurado De Heras, native of Seville, started singing Flamenco and the Copla at a very early age, performs around Spain, Portugal, France and the U.S.
Ricardo Diaz originally from San Francisco, studied guitar in Madrid, Spain, and has performed with world-renown Flamenco artists throughout the country
Explore Music! SPAIN
Sunday, Feb. 12, from 12:30-3 p.m.
Webster University East Academic Building
Free admission
For more information, visit webster.edu/cms or call (314) 968-5939.
Explore Music! SPAIN, Experience the Music and Culture of Spain is presented as part of the Community Music School's global music program, which was established to develop increased exposure to and experience with music of all cultures. With the belief that all musical styles are equally valid, the CMS endeavors, through the Explore Music! program, to foster social harmony, trust, understanding, and appreciation of all cultures. Students, teachers, and those with a general interest in music and exposure to diverse cultural music practices are invited to participate and observe.
tags:  college of fine arts, webster life, webster today, community music school,
News by Topic
Tag Categories
News by Topic
Tag Categories