Alumni, Faculty, Student Work Showcased at BRIEFS Festival of LGBTQ Plays March 9-11
Mar. 2, 2017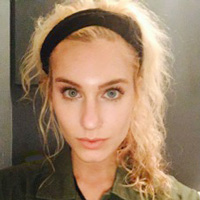 At a time when both LGBTQ rights, freedom of expression and funding for the arts hangs in the balance, the sixth annual BRIEFS: A Festival of Short LGBTQ Plays is more relevant than ever and Webster faculty and students will play an integral part in this nationally recognized event. BRIEFS runs March 9-11 at the ZACK Performing Arts Incubator at Grand Center in St. Louis.
Performance Schedule
Thursday, March 9, 8 p.m.
Friday, March 10, 8 p.m.
Saturday, March 11, 4 p.m. and 8 p.m.
To purchase tickets, visit metrotix.com/briefs or visit the Facebook event page to learn more information and view posts introducing our actors, directors, playwrights and crew.
Presented by Pearl Vodka and co-produced by That Uppity Theatre Company and Vital Voice Magazine, BRIEFS is a unique showcase in St. Louis that brings together numerous directors and theatre artists to showcase the work of eight different playwrights all under one roof. BRIEFS presents theatrical work that address the lives of lesbian, gay, bisexual, transgender, and queer or questioning people. The festival is targeted to a diverse and mature audience that appreciates good theatre in unique settings.

Growing Involvement of Webster Alumni, Faculty & Students
Founded by Distinguished Webster Alumna Award recipient Joan Lipkin '75, this year's festival continues to feature the work of several Webster community members. Co-producer Darin Slyman, CEO and the partner of the Vital Voice Magazine is also a Webster alumnus.
"As a proud alum of Webster, I really value the connection we have had with the school. We have also had had many interns from Webster gain experience working with us at the Vital Voice," said Slyman. 
Gad Guterman, assistant professor in the Conservatory of Theatre Arts, directs Trial and Swear by Webster Conservatory student McKenzie Moser '17, featuring Webster Conservatory students Delaney Piggins '18 and Kiah McKirnan'19. The festival also includes Conservatory student Annie Dent '18 and Playwriting student Jake Kevrick '17, who are working as interns for the company.
Moser is this year's recipient for the third annual Ken Haller Playwriting Competition for LGBTQ and Allied Youth, a competition launched by Lipkin. The competition is named after pediatrician, performer, and longtime LGBTQ activist Ken Haller. The Haller competition provides the winning playwright with a cash prize and Trial and Swear is staged at the Briefs festival.
"I am fascinated with the ways in which humans cure their loneliness, how they make up for their needs. I wanted to explore the difference between what people say and what they actually mean," said Moser. "Mainly, I wanted to explore the idea of love. Can you love someone and not be sexually attracted to them? How much control do we have over who we love, and how we feel about them? If love isn't inherently sexual, then can you manipulate yourself to feel something for someone who is there, because it is convenient, and because you cannot be alone?"
Trial and Swear was created and work shopped in Webster playwriting class taught by Webster professor Michael Erickson. "My professor wrote about an LGBT based play festival on the board, and I decided I was going to do it. LGBT rights are human rights. And I wish to write plays that mean something," said Moser.
Guterman also served on the reading committee for the festival and worked as a dramaturg for Moser's play and several other plays selected for the festival.
"I am delighted by Webster's involvement," said Lipkin. "Gad's understanding of theatrical texts is exemplary and has been so helpful in my own work. It is also wonderful to have such talent available from theatre students at Webster. The quality of their work is very high, as evidenced by their training. We appreciate being able to give them opportunities to contribute to other cultural events in the community where they may also be exposed to more directors, actors, and playwrights." 

Play Descriptions
Each of the eight plays run about 10 minutes or less and include a variety of comedic and serious themes and genres. This year's collection of eight plays has been selected from over 250 submissions across the country and includes such themes as the care-taking of elderly family members by gay persons, the stress a lesbian couple experiences given varying responses to the Pulse massacre, the impact on family dynamics following a member's official adoption of a transgender identity, the closing of a bar that was a foundational safe haven for gay community members, and more. 
During its six-year history, BRIEFS has attracted many talented leading actors and directors from the St. Louis area. This year, we will feature three local, female writers, Shannon Grier, Joan Lipkin and Theresa Masters with their respective works titled Twenty Questions, Our Friends, and Danny Boy.
Lipkin says the festival will also offer gender parity in the lineup of directors. "This is a core value we have pursued since the inception of the festival to provide greater accessibility to performance opportunities for women. Half of the directors are women, a significant accomplishment both locally and nationally," she said. 
Dan Berkowtiz's When Oprah Says Goodbye is back by popular demand with its original principal cast featuring Thomasina Clark and Peggy Calvin, directed by Fannie Lebby as a presentation of diversity and aging in the LGBTQ community. Berkowitz plans to travel from California to attend the festival as will playwright Jon Fraser from New York whose play, Gaga was also selected. 
In addition to showcasing new LGBTQ works, That Uppity Theatre Company and Vital Voice will  solicit donations during the BRIEFS festival for the Islamic Foundation of Greater St. Louis and the International Institute of St. Louis. These organizations work with Muslims, immigrants, and refugees in the St. Louis area. Last year, the festival raised  $1,000 for the Metro Trans Umbrella Group.
"Working on the BRIEFS festival is a welcome annual reminder of the power of theatre to forge community. The collection of short plays not only offers a snapshot of LGBTQ experiences today but also celebrates a spirit of solidarity and togetherness," said Guterman.
Art and freedom of expression is essential for the survival and well-being of various communities including LGBTQ and allied people. That Uppity Theatre Company hopes that you will support the LGBTQ community and Webster student McKenzie Moser at Briefs and the St. Louis premiere of Trial and Swear.
Story submitted by Annie Dent, Conservatory of Theatre Arts student
tags:  academics, college of fine arts, webster life, webster today, conservatory, alumni,
News by Topic
Tag Categories
News by Topic
Tag Categories