Dear World Storytelling Experience Comes to Webster Sept. 21
Sep. 20, 2017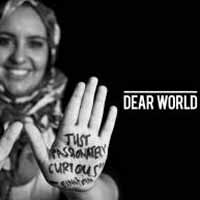 The portraits and interactive storytelling project "Dear World" is coming to Webster University Thursday, Sept. 21.
Dear World is an interactive, award-winning portrait project that explores the subtle and powerful connections between students, faculty, and staff. Dear World was founded as a portrait project that unites people through pictures in their distinct message-on-skin style.
The process began simply, to ask a person to share a message about something or to someone they love. By the end of the night participants realize that through our stories, there's actually much more that brings us together than what keeps us apart.
The unique experience comes to Webster on Thursday, Sept. 21, at 6 p.m. in the University Center Grant Gymnasium. The Dear World live show will be here to feature and celebrate the stories and voices from around the world and our own campus. 
A reception will immediately follow the live show where Dear World will be taking additional portraits and guiding participants through their unique story sharing process to capture their very own portrait. 
Bring a friend, meet new people, share your story and hear incredible stories from Webster University and around the world. All you need to begin is an open mind. Dear World's immersive storytelling process will do the rest -- from helping you select a story to taking your professional portrait. 

Show and after party details:
Storytelling Show: 6-7 p.m. in the University Center Grant Gymnasium
After Party: 7-9 p.m. in the University Center Grant Gymnasium
tags:  webster life, students, student affairs, student activities, community engagement, diversity and inclusion, webster today,
News by Topic
Tag Categories
News by Topic
Tag Categories