Campus Dining Improvements Coming This Fall
Feb. 27, 2017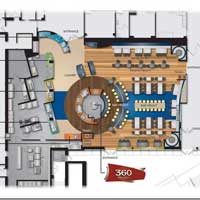 Significant changes to Webster University's home campus dining services are in the works. Beginning Fall 2017, students, faculty and staff will discover a newly redesigned Marletto's Marketplace, new food areas in the University Center, more seating, a new meal plan for students, new food options, and the return of at least one old favorite food.
The changes are the culmination of student, faculty and staff input and a new contract renegotiation with Sodexo. 
"The diners have spoken," said Ted Hoef, associate vice president and dean of students. His division manages the Sodexo contract. "We gathered feedback from the campus community through a survey and several focus groups and presented that to Sodexo. Sodexo was very responsive and worked with us to come up with a comprehensive plan to address the desires of the campus."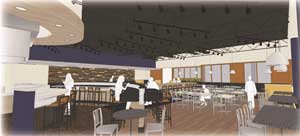 During the summer, the Sandella's Flatbreads unit in the UC Crossroads food court will be replaced with Far East Fusion. Far East Fusion is an Asian concept featuring rice or noodle bowls, allowing the customer to select from a variety of options for veggies, proteins, and Far East authentic sauces and toppings. Bahn Mi sandwiches will also be available. Sushi will be prepared at this unit, and packaged sushi will be available at other locations around campus. Sales have declined at Sandella's over the past few years, and students requested having options that would be lighter, more customizable, and portable.
The return of pre-packaged sushi was a direct result of student feedback after the previous sushi offerings were discontinued last year.
Mareletto's Marketplace also will be renovated. When it reopens, the popular dining area will have:
360 Degrees international cuisine, which will offer international cuisine on a weekly rotating basis with chefs cooking selections to order.
The Flying Star Diner, which will feature regional cuisine, signature grill items, breakfast all day, and seasonal desserts
The Wild Mushroom, which will offer salads assembled to order, vegetarian and vegan chef specialties, and many more seasonally-driven and locally-produced favorites
SubConnnection, with 11 different kinds of subs made your way, with 5 different types of fresh baked bread. For the health conscious, subs under 500 calories and salads will be available
Simply-to-Go menu items will also be added to Marletto's
Marletto's will offer a la carte pricing exclusively for all menu items, with the elimination of the all-you-care-to-eat price
New seating and fixtures that will increase capacity by about 20.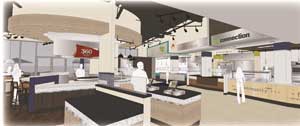 All of the renovations, estimated to cost $1.16 million, will be funded by Sodexo, as part of their contract extension with the University.
In response to student input, the meal plan has been changed for 2017-18. Instead of four different options, which included weekly plans and block plans, students will have one declining balance meal plan. This will provide students with the ultimate in flexibility in how they use their meal plan, and eliminate some of the major concerns brought forward by students:
Loss of meals from one week to the next
Too many meals left over
Too many restrictions on use of meals purchased at locations other than Marletto's.
For those students who would like to add to their meal plan, Campus Dining Services will offer a two-for-one buy-up option.  For example, if a student adds $100 to their meal plan, they will get $200 in spending power.
The cost to the student for the new meal plan will be $2,500 per semester. For the majority of meal plan participants, this will mean no increase in the cost of their meal plan compared to this year's prices. Out of that price, $800 will be dedicated to overhead costs, and $1700 will be credited to the student's account to be spent on food during the semester. Any amounts unused in Fall will rollover to Spring semester. Any unused portions at the end of the academic year will be forfeited.
Approximately 475 students sign up for a meal plan annually. All residents in the residence halls are required to have a meal plan.
Starting in Fall 2017, a meal plan also will be offered to commuter students. All commuting flat-fee, full-time undergraduates at the Webster Groves campus will be provided with a $100 per semester commuter meal plan that will allow them to buy food at any on-campus location for Campus Dining Services. There is no additional fee for this. Any amounts unused in Fall will rollover to Spring semester. Any unused portions at the end of the academic year will be forfeited. It is hoped that this will encourage more commuter students to eat on campus and interact more frequently with residents, faculty, and staff, Hoef said.
All of these changes are in response to input from students, faculty, and staff, obtained through the
Annual NACUFS Customer Satisfaction Benchmarking Survey, which collected input from 586 respondents. Student focus group also were held and additional feedback was obtained from the Delegates' Agenda Food Committee, the Dining Advisory Board, and the Residential Housing Association.
tags:  home page, webster life, webster today, students,
News by Topic
Tag Categories
News by Topic
Tag Categories