Dispositive Environments Exhibition Opens in Cecille R. Hunt Gallery March 24
Mar. 21, 2017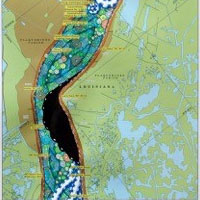 The exhibition, Dispositive Environments, opens this month in Webster University's Cecille R. Hunt Gallery, with works by Mel Watkin, John Sabraw, Eva Ju, Chris Jordan, Ursula Biemann, Libby Reuter and Joshua Brown.
The opening reception will be Friday, March 24, from 6-8 p.m. with an opening lecture by exhibiting artist John Sabraw from 12-1 p.m. in Sverdrup Hall, room 123.
Curated by Jeffrey Hughes, the exhibition highlights the tension between technology and permanence, and the too often neglected ecological consequences of industrial rapid expansion.
The exhibition will highlight art that responds to this intersection of social, symbolic and political forces. The juxtaposition of still necessary mechanisms and technologies of the Industrial Revolution associated with sub-surface mining or railroad transport, and are intertwined with the technological engines of transnational commerce and information economies.
All Hunt Gallery events are free and open to the public. 
Opening reception March 24, from 6-8 p.m.
Cecille R. Hunt Gallery
8342 Big Bend Blvd.
St. Louis, MO  63119
tags:  college of fine arts, webster today, exhibition, home page, department of art design and art history, hunt gallery, department of art,
News by Topic
Tag Categories
News by Topic
Tag Categories