Diversity and Inclusion Preview: Uppity Theatre's interactive playback theatre on bullying, intervention, allyhood
Feb. 27, 2017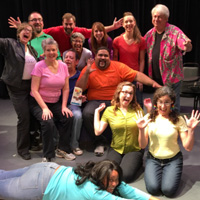 As part of the two-day Critical Conversations: Embracing Diversity and Inclusion event, Webster University welcomes That Uppity Theatre Company, which will engage audience members to share experiences of bullying and domination from their own lives along with stories about interventions and allyhood.
Playback theatre is a unique technique practiced in over 40 countries. The form utilizes the stories told by members of the audience and enacts them on the spot through improvisational theatre. 
Developed by Jonathan Fox and Jo Salas in 1975, playback is practiced throughout the United States and internationally, as a means for communities to witness the honest and open depiction of real life occurrences and events. With funding for the arts under attack and a rise in hate crimes, this use of theatre is a prime example of how the arts can provide catharsis, a platform for one's stories to be told, and promote understanding. 
Led by by Distinguished Webster Alumna Award recipient Joan Lipkin '75, That Uppity Theatre Company, the playback actors, and students are active and diverse members of the St. Louis and Webster University communities.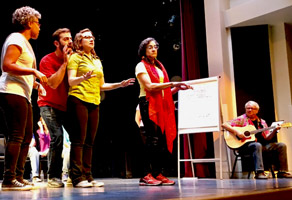 Lipkin has presented playback in a variety of settings throughout St Louis including the Missouri History Museum.
Her company currently has five playback performances commissioned by the Diversity Awareness Partnership scheduled around the theme of gender expression and sexual orientation to be presented at Boeing, AG Edwards, Edward Jones, Toyota Bodine, the St Louis Zoo and the Botanical Garden throughout the winter and spring. 
"It's an incredibly effective and enjoyable form that may be adapted for many settings," Lipkin said. "We did playback last summer around the somewhat light hearted theme of summer for the Grand Center Theatre Crawl but we have also offered performances that explore trauma or reconciliation."
Lipkin says the story sharing technique may be healing for numerous communities and groups, especially when refracted through the medium of theatre because it also offers models for personal and collective action. "There is nothing quite like someone sharing their story in a theatrical way with which we can all engage," she said. 
Critical Conversations: Embracing Diversity and Inclusion March 1-2
When: March 1-2,
Where:Luhr Building, Webster Groves campus
Admission: Free, but RSVP for sessions here (lunch is extra, but free for students)
Uppity Theatre Performance: March 1, 3:15 p.m. to 4:45 p.m.
Full conference program, details here
Webster University is proud to host the two-day event where student panel discussions, keynote addresses, and facilitated dialogue sessions will help to create opportunities for those present to share their experiences, research, and emerging trends in creating communities that embrace diversity in ways that welcome and include. Webster University defines diversity and inclusion in the broadest sense — embracing all human differences, while building upon commonalities. Diversity and inclusion is at the very core of their mission, as a worldwide institution that transforms students for global citizenship.
Some students on the planning committee for this year's conference who are doing campus outreach include Jake Kevrick '17, Jared Campbell '17, Annie Dent '18, Hafsa Mandoor '18, and Eman Fahmay '17. 
Story by Annie Dent '18, Webster University Conservatory of Theatre Arts student
Schedule Overview
Wednesday, March 1
8:30-9:00 am
Registration

9:00-9:15 am
Elizabeth (Beth) J. Stroble and Julian Z. Schuster (Webster University) | Opening Remarks
No Charge

9:15-10:30 am
Media and the Message - A Conversation with Art Holliday (KSDK) - Interviewed by Sarah Bannoura (Senior, Journalism and Video Production)
Keynote / No Charge

10:30-10:45 am
Break

10:45 am-Noon
Jason Blakemore (Veterans Affairs) | Serving the Military & Veteran Community
No Charge

Noon-1:30 pm
Multicultural Center and International Student Affairs (Webster University) | Dimensions of Diversity
Lunch Keynote (Lunch Available for Purchase)

1:30-1:45 pm
Break

1:45-3:00 pm
Julie Setele (Webster University) | Lessons of Immigration
No Charge

3:00-3:15 pm
Break

3:15-4:45 pm
Joan Lipkin & That Uppity Theatre Company | Our Stories of Bullying and Intervention: An Audience Response Using Playback Theatre
No Charge

4:45-5:00 pm
Nicole Roach (Webster University) | Closing Remarks
No Char
Thursday, March 2
8:30-9:00 am
Registration

9:00-9:15 am
Carmen Jacob (NextGen Information Services, Inc.) | Opening Remarks
No Charge

9:15-10:30 am
Jeff Hughes (Webster University) | Expressions of Art
No Charge

10:30-10:45 am
Break

10:45 am-Noon
Kalani Seaver (Webster University's Student Government Association Ambassador for Student Inclusion) | LGBTQQIAAP: Transgender Ally 101
No Charge

Noon-1:30 pm
Multicultural Center and International Student Affairs (Webster University) | Dimensions of Diversity
Lunch Keynote (Lunch Available for Purchase)

1:30-1:45 pm
Break

1:45-2:45 pm
John Link (Webster University) | Recruiting, Retaining and Inspiring a Multigenerational Workforce
No Charge

2:45-3:00 pm
Elizabeth (Beth) J. Stroble and Julian Z. Schuster (Webster University) | Closing Remarks

3:00-4:00 pm
Closing Recepti
tags:  academics, alumni, employee news, diversity and inclusion, faculty, home page, webster life, webster today,
News by Topic
Tag Categories
News by Topic
Tag Categories