Highlights from Critical Conversations: Embracing Diversity and Inclusion
Mar. 15, 2017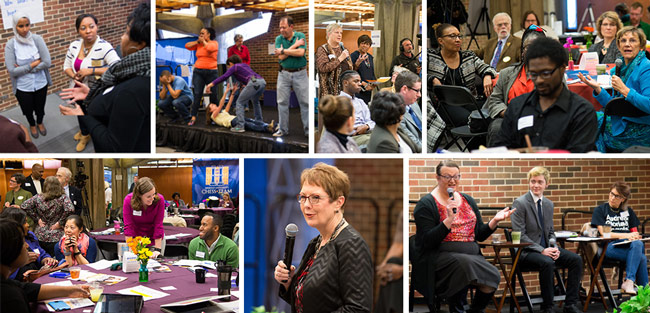 Webster University hosted its second annual two-day "Critical Conversations: Embracing Diversity and Inclusion" event March 1-2 as a forum for students, faculty, staff, alumni and community partners to share their experiences, research, and emerging trends in creating communities that embrace diversity in ways that welcome and include.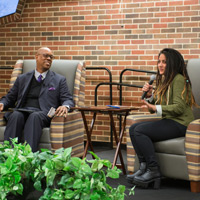 Longtime St. Louis broadcaster and author Art Holliday and alumna Joan Lipkin's That Uppity Theatre were among the featured leaders brought to the Luhr Building for two days of dialogue and reflection.
Holliday's remarks touched on the role of media and his own experience of nearly four decades in the St. Louis community. He was interviewed by senior School of Communications student Sarah (Saa-Daa) Bannoura to get the two-day conversation started.
While advancing the many topics around diversity and inclusion is a year-round priority, the annual two-day event represents a chance for Webster community members -- including the global network, with the event streamed live -- to come together in one setting for interactive learning and discussion. 
As President Elizabeth (Beth) J. Stroble wrote in inviting attendees to the event:
"From Webster's inception, we have been an institution that opened worlds that were previously closed to students. Our student body has become increasingly diverse in every way. We are a microcosm of the world across the Webster campus network and within each campus.
"How can we make progress on this continuous path to equity? We can build on the knowledge we already hold, seeking to learn from and with each other. We can join with our neighbors to address the most pressing concerns from humanitarian and environmental perspectives. We can learn from speakers at this forum what next steps are needed. We will maintain our focus—staying true to our core values—by continuing to learn, to create, to listen to each other, to seek the best in each other, and to want the best for each other. 

"These conversations are critical; only we can make a difference in our community, and we must."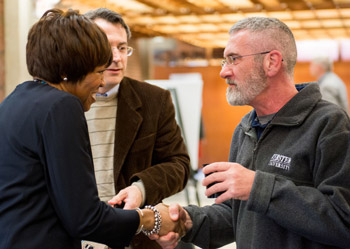 Nicole Roach, Webster's associate vice president for Diversity and Inclusion who led organization of the conference with a committee of students, faculty, staff and community partners (see list below), helped field audience questions for panelists throughout the two-day event.
During lunch on both days, Webster's Multicultural Center and International Student Affairs office led participants through activities to explore dimensions of diversity and step out of "comfort zones."
Jason Blakemore, Webster's VetSuccess on Campus Counselor (VSOC), moderated a panel on serving the military and veteran student community.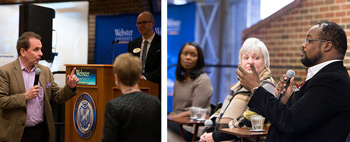 Julie Setele, assistant professor of Anthropology and Sociology in the College of Arts & Sciences, led a panel on "Lessons of Immigration."
At the end of the first day, That Uppity Theatre engaged the audience to share experiences of bullying and domination from their own lives along with stories about interventions and allyhood. The technique, known as playback theatre, utilizes the stories told by members of the audience and enacts them on the spot through improvisational theatre. 
Other highlights included panels on "Expressions of Art," "LGBTQQIAAP: Transgender Ally 101," and "Recruiting, Retaining and Inspiring a Multigenerational Workforce."
Sponsors and Planners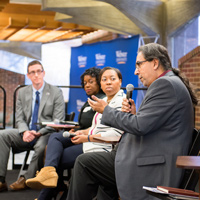 In addition to the extensive work by Webster community members, several sponsors and individual contributors helped make the event possible:
Presenting Sponsors: Greater Saint Louis Community Foundation, Missouri History Museum, and the Jane and Bruce P. Robert Charitable Foundation
Supporting Sponsors: Tarlton, Good Sport Captioning, and the Diversity Awareness Partnership
Individual Supporting Sponsors: Albert Lee Anbon, Richard and Elizabeth Aurbach, Mary A. Banks, Sebastian F. Bellomo, Terri E. Blincoe, Gregory Boston, Richard L. Buck, Nonie C. Cabana, Clark Davis, Harold A. Deuser, Eugene Dunkley, Ron Gibbs, Laura Gunderson, Robert Halon, Matthew Wier and Davina Harrison, Carol Johnson, Kristin M. Johnson, Crystal R. Moman-Reed, Joyce Olinga, Margaret Onken, Geralyn M. Pilarski-Schultz, Nicole N. Roach, Deanna Snowden, Dr. Elizabeth J. Stroble and Dr. Paul E. Stroble, Kristine Wentzien and Scott E. Wuesthoff
Conference Planning Committee
Faculty and staff: Colette Cummings, Erica Ellard, Nancy Higgins, DJ Kaiser, Pamela Kramer, Kim McGrath, Nicole Roach, Rick Rockwell, Julie Setele, Dana Sprehe, Phil Storm
Students: Stacey Bayer, Kat Bush, Chontol Calvin, Jared Campbell, Annie Dent, Avery Maasai, Kalani Seaver
Resources
See more about policies, services, activities and more on Diversity and Inclusion at Webster University
tags:  academics, alumni, global, president, provost, students, diversity and inclusion, community engagement, partnerships, webster life, webster today,
News by Topic
Tag Categories
News by Topic
Tag Categories