Middle East to Midwest: Webster MBA student from Egypt profiled in St. Louis Magazine
Feb. 22, 2017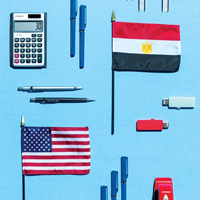 Webster University student Asmaa Hassan Ahmed Ali was profiled in St. Louis Magazine for her experiences since coming to St. Louis via an international scholarship program that helps Egyptian women earn MBAs.
Asmaa Ali, an avid runner and track star in Egypt, discussed her life in St. Louis and differences in study from Egypt, where she earned her undergraduate degree, and her experiences at Webster, where she is in the MBA program:
"In Egypt, her studies were built around lectures, whereas graduate lessons at Webster centered around discussion. Through that open forum, Asmaa Ali learned of the great diversity of opinion, background, and religion among her fellow students. She quickly befriended people not only from the U.S., but also from other countries, such as Pakistan, India, Germany, China, and Korea. The faculty went out of their way to ensure that her transition was going smoothly. St. Louis quickly began to feel like home."

The profile also discusses the U.S. environment after the November election and travel executive order issued in January, which led to cancel plans to visit home before she finishes her degree:
"In the meantime, Asmaa Ali believes, the most productive thing she can do is be an example. 'I am a representative of my country and my religion,' she says. 'My friends tell me that I am not what they hear about Muslims and Middle Eastern people—not the way the media describes us. The media is not always 100 percent right. You have to experience things for yourself and decide.'"
Read the full profile at stlmag.com.
tags:  academics, faculty, global, home page, in the news, webster life, students, mcisa, global marketing and communications, webster today,
News by Topic
Tag Categories
News by Topic
Tag Categories