Serving as Champions of Diversity and Inclusion: Op/Ed by President Stroble
Feb. 27, 2017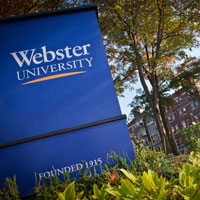 Webster University President Elizabeth (Beth) J. Stroble had an editorial in the Friday, Feb. 24, St. Louis Post-Dispatch about the importance of diversity and inclusion in today's world. 
In the column, Stroble writes:
"2017 has witnessed many expressions of public support and critique in the form of marches, rallies, social media campaigns and town halls that focus on issues of identity and community, stigma and bias. Questions about the value of diversity and our true commitments to inclusion are foremost in our minds.
"Through the years, Webster University's student population has grown to reflect the increasingly diverse environment in which we now live, work and learn. We have vibrant campuses in St. Louis, on military bases, in major cities from coast to coast, and in Europe, Asia and Africa. We are indeed a microcosm of the world. I believe that success on our university campuses, in partnership with the communities we serve, and in our neighborhoods and workplaces demands that we embrace human differences while building on commonalities."
The column continues with steps Webster has taken to self-examine and improve itself in these areas over recent years, and closes with a call to action:
"In these challenging times for St. Louis and beyond, I believe nothing is more important to our future than a commitment to inclusion for our diverse community. We must think about it, talk about it, and most importantly, act upon it."
Read the full column in the Feb. 24 edition or online here.
Webster's annual Critical Conversations: Embracing Diversity and Inclusion two-day conference is March 1-2 and open to the public. 
tags:  academics, alumni, extended campus, faculty, global, global marketing and communications, diversity and inclusion, home page, in the news, president, webster life, webster today,
News by Topic
Tag Categories
News by Topic
Tag Categories