Marletto's Marketplace to Open Sunday
Aug. 24, 2017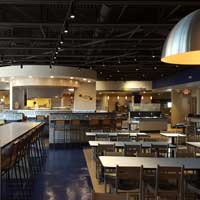 The renovation of Marletto's Marketplace will be finished tomorrow, Friday Aug. 25, and the dining hall will reopen from 5 p.m. to 7 p.m. Sunday, Aug. 27 for evening dining service for students. It will then open Monday morning for regular breakfast, lunch and dinner hours.
When the space reopens this weekend, students, faculty and staff will discover more seating and new food options.
Changes include:
360 Degrees international cuisine, which will offer international cuisine on a weekly rotating basis with chefs cooking selections to order.
The Flying Star Diner, which will feature regional cuisine, signature grill items, breakfast all day, and seasonal desserts
The Wild Mushroom, which will offer salads assembled to order, vegetarian and vegan chef specialties, and many more seasonally-driven and locally-produced favorites
SubConnnection, with 11 different kinds of subs made your way, with 5 different types of fresh baked bread. For the health conscious, subs under 500 calories and salads will be available
Simply-to-Go menu items will also be added to Marletto's
Marletto's will offer a la carte pricing exclusively for all menu items, with the elimination of the all-you-care-to-eat price
New seating and fixtures that will increase capacity by about 20.
The changes are the culmination of student, faculty and staff input and a new contract renegotiation with Sodexo. Work on the space began in May.
Marletto's wasn't the only dining space to be renovated this summer. The food areas in the University Center also received a facelift. During the summer, the Sandella's Flatbreads unit in the UC Crossroads food court was replaced with Far East Fusion. Far East Fusion is an Asian concept featuring rice or noodle bowls, allowing the customer to select from a variety of options for veggies, proteins, and Far East authentic sauces and toppings. Bahn Mi sandwiches will also be available. Sushi will be prepared at this unit, and packaged sushi will be available at other locations around campus.
All of the renovations were funded by Sodexo as part of their contract extension with the University.
For more information about home campus dining options and meal plans, visit https://websterdining.sodexomyway.com/dining-choices/index.html. 
tags:  employee news, webster life, webster today, construction,
News by Topic
Tag Categories
News by Topic
Tag Categories