Power Outage Scheduled for Home Campus on Sat. July 29
Jul. 12, 2017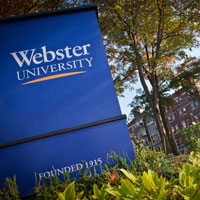 An Ameren planned power outage is scheduled for the Webster Groves home campus on Saturday, July 29. Most buildings on campus will start to lose power as early as 2 a.m. that morning. Power is not anticipated to be restored until later Saturday afternoon.
The power outage will allow Ameren to install an automated switch on the high voltage line that supplies Webster University's substation. Once installed, it should increase the reliability of the campus' power supply.
The four buildings that will not be affected are:
The Luhr Building
Village Apartments
Opera Theatre St. Louis
Repertory Theatre of St. Louis offices
For those who work in any other building on campus, please turn off your computer and any other electronic equipment before leaving for the weekend on July 28. Also, remove food from refrigerators and take precautions with small office refrigerators, as they will defrost. The buildings will be inaccessible to all students, faculty and staff during the outage. This includes the Emerson Library and the University Center.
Of all the dates and times presented by Ameren this date works best for Webster because there are no events, summer camps or students living on campus during this weekend, thus it had the smallest impact to campus. During the outage, public safety will be patrol and some vital systems, such as building sump pumps, the computer servers and other electronic devices will be powered through emergency backup generators.
tags:  announcement, college of arts and sciences, college of fine arts, employee news, faculty, president, provost, school of business and technology, school of communications, school of education, webster life, webster today,
News by Topic
Tag Categories
News by Topic
Tag Categories