Pulitzer Arts Foundation Showcases Webster Sculpture Students' Bronze Work in 'Holding Cognition'
Mar. 28, 2017
The Pulitzer Arts Foundation in St. Louis, Missouri, will host a public reception for "Holding Cognition," Saturday, April 1, from 2-5 p.m. showcasing bronze works by Webster University sculpture students.
Similar to the work of Medardo Rosso who is showcased in the Pulitzer museum, the students in Webster's Department of Art, Design and Art History (DADAH) are learning to work with the lost-wax process, plaster-sand casting and pouring bronze.
While bronze casting has been practiced for over 4,000 years for practical and artistic purposes, it is still a relevant and evolving art form today. Works in the showcase involve traditional hand-sculpting, life-casting, and 3D printed sculptures translated into bronze.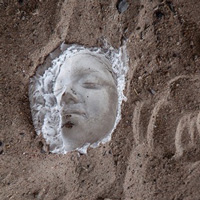 While each work is unique in its response, students were asked to consider in contemporary terms, "what can be considered a portrait?" and "is it possible to make a touchable portrait?"
While certain works welcome interaction more than others, they share a common thread of attempting to embody the character, essence and feeling of a person or state of mind. 
The Pulitzer Arts Foundation is at 3716 Washington Blvd. in St. Louis, Missouri, 63108
Artists in Showcase:
Becca Rohrer
Theresa McClure
Cat Terry
Colleen Jordan
Caitlin Isgriggs
Hattie Svoboda-Stel
James Eveland
Chelsea McDaniel
Logan Muller
tags:  college of fine arts, webster life, webster today, home page, academics, department of art design and art history, sculpture, students,
News by Topic
Tag Categories
News by Topic
Tag Categories