Iftar Pot Luck June 9, Ramadan Notes for Students, Faculty
May. 17, 2017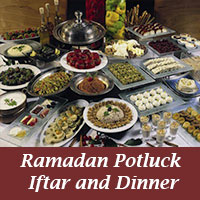 Ramadan 2017: May 26-June 25
To all of our Muslim students, staff and faculty at Webster University, we wish you a fulfilling and meaningful Ramadan season. We wanted to draw your attention to a few events and points of interest surrounding the celebration of Ramadan on the St. Louis campus.
RSVP to Ramadan Iftar/Dinner June 9
The 8th annual Ramadan Iftar/Dinner will be held in Sunnen Lounge on Friday, June 9. Food will be set up between 7-8 p.m., with the iftar/dinner from 8:30-10 p.m. Everyone is welcome. Space is limited to 100 guests. Click here to RSVP.
Please contact us if you are interested in preparing and sharing with us a traditional dish from your country. There are many ways to contribute to the potluck, even if you do not cook. Please visit our RSVP form for a list of ways you can contribute!
There is also an extensive website with information about Ramadan and the Webster community here.
Finally, a special note to professors with night classes: Ramadan 2017 began in the evening of Friday, May 26, and ends in the evening of Sunday, June 25. If you have students who are observing Ramadan, please consider the timing of your breaks during the evening classes. Students are able to break their fast at sundown, so allowing them to quietly step out to have a drink or bite to eat — or simply scheduling your break close to sundown — would be very helpful to them.
tags:  global, webster life, webster today,
News by Topic
Tag Categories
News by Topic
Tag Categories