Eleven Tips for Viewing the Solar Eclipse
Jul. 19, 2017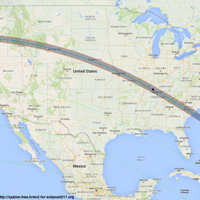 On August 21st, parts of St. Louis will be in the solar eclipse's path of totality, the area that will be temporarily darkened in the middle of the day by the shadow of the moon. This rare occurrence is causing excitement in the city, and the faculty at Webster University have put together 11 tips to help you enjoy the event more:
1.)    To watch the eclipse, you will need special solar sunglasses. Looking directly at the sun, even if it's partially blocked or if you are wearing sunglasses, can damage your eyes. Make sure the glasses are ISO-certified. They are currently being sold online and in many local stores. Some organizations, such as Webster University, plan to give away free glasses on the day of the event. If you have children with you, make sure they are wearing glasses and the glasses are properly fitted and completely covering their eyes.
2.)    The length of time for totality will change, depending on where you are. Those in the southwest part of St. Louis City will see the sun completely blocked for less than 14 seconds, those in Webster Groves will see the sun obstructed for about one minute and 15 seconds, and those near Festus Missouri will have more than two minutes of total darkness. The entire eclipse (from when the moon first starts to obstruct the sun to when it completely passes it) will start at about 11:50 a.m. and end at about 2:45 p.m. To see how long the eclipse will last by location, visit https://www.greatamericaneclipse.com/missouri.
3.)    Even though the sun is being blocked, you will need to take precautions to avoid getting sunburned. Consider wearing a hat, light cotton clothing, and sunscreen.
4.)    Make sure to have water readily available. While it will get dark, it will still be the middle of the afternoon during a Midwest summer.
5.)    If you plan on photographing or video recording the event, make sure you recharge all your camera batteries and reformat your memory cards ahead of time. On the day of the event, triple check to make sure a memory card and battery are in your camera.
6.)    Just like the glasses for humans, cameras will need a solar lens filter for lenses to protect the internal light sensors. This includes camera phones. You can buy solar lens caps or get a sheet of solar filter film that you can tape to a lens at local stores or online. Be aware, there is a huge demand for this equipment, so purchase these filters as soon as possible.
7.)    Photographers should consider bringing a tripod to make it much easier to photograph the various phases of the eclipse as well as capturing long exposures. Here (http://www.mreclipse.com/SEphoto/SEphoto.html) is a handy guide for photographers about the upcoming eclipse with charts and settings.
8.)    Carefully plan the photos you want in advance. If you live near Forest Park, you might want to get a photo of half the park in darkness and the other half in light (only part of the park is in the area of totality), as seen from a spot high up. Or consider shooting a photo of dozens of people wearing the special glasses with the eclipse reflected in their lenses, or possibly you will want to filter it through the leaves of a tree. Remember, you will only have a very short time to get the perfect shot of the total eclipse. Planning ahead will make sure you don't miss it. 
9.)    Test your photo equipment about one to two weeks before the eclipse by shooting pictures of the moon. This will help determine the limits of your equipment and let you know if you need any repairs or additional equipment.
10.)            If you are traveling somewhere to get a better view of the eclipse, leave early and be alert on the roadways. The Missouri Department of Transportation is forecasting traffic delays in the region (http://www.modot.org/eclipse/) due to the amount of people who are anticipated to be traveling to the path of totality. Additionally, previous studies during past eclipses in other cities have shown an increase in traffic accidents, due to distracted drivers who try to look up at the sun rather than at the road.
11.)            Finally, if you are looking for a good spot to shoot the event, take advantage of solar eclipse parties happening throughout the region. Webster University (www.webster.edu/eclipse) and Southeast Missouri University (http://eclipse.semo.edu/index.php) are just two of the dozens of organizations holding eclipse viewing parties open to the public. St. Louis Eclipse 2017 has a list of other events (http://www.missourieclipse2017.com/). 
tags:  college of arts and sciences, home page, school of communications, webster life, webster today,
News by Topic
Tag Categories
News by Topic
Tag Categories