Sustainability Website Features New Educational Video, Interactive Eco-Map
May. 10, 2017

Campus Eco-Map
On May 9, Webster University Sustainability published a campus "Eco-Map" revealing the broad spectrum of green infrastructure and resources on campus. The Eco-Map was created by the Webster University Sustainability to communicate sustainability initiatives in place campus-wide.
The map allows viewers to navigate different layers, such as solar panels, bike racks or water bottle refill stations. Each of the elements has an icon attached to their location on the map which viewers can click on for more information.
Campus Sustainability Video
Last fall, the Sustainability Office and the 2016 Gorlok Going Green (G3) Peer Educators worked with Idea Tree, a student-run production team, to create the first-ever campus sustainability video. The nearly seven-minute video highlights the environmental features on campus, ranging from the Natural Area's native habitats, the campus-wide solar arrays to the various alternative transportation resources available on campus.
The video may be viewed below or at webster.edu/sustainability.


For question or comments, contact Kelsey Wingo at kelseywingo07@webster.edu.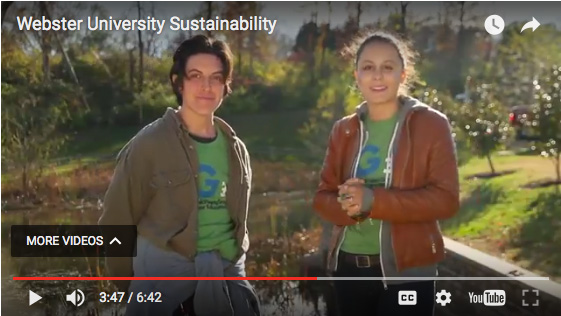 About the Sustainability Coalition
The Sustainability Coalition facilitates and supports sustainability activities on and from Webster campus and build our capacity to be more sustainable in our practices, education, and outreach. There are many opportunities for members of the Webster community to become involved with sustainability: attend events, join the Coalition or submit ideas for ways to become a more sustainable University.
tags:  webster life, webster today, employees, faculty, students, sustainability,
News by Topic
Tag Categories
News by Topic
Tag Categories