Webster University Conservatory of Theatre Arts Performs 'The Drowsy Chaperone' April 19-23
Apr. 19, 2017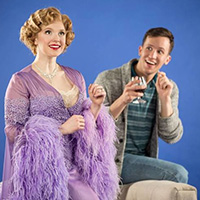 The Conservatory of Theatre Arts presents the wildly humorous The Drowsy Chaperone by Bob Martin and Dom McKellar with music and lyrics by Lisa Lambert and Greg Morrison.
"It is a valentine to the extravagant musicals of the 1920's. A fond reminiscence of a long lost era when prohibition reigned, liquor flowed like water, showgirls were the Madonna's of their time, and gangsters were a dime a dozen." -Splash Magazine
Performances will be held in the Browning Mainstage Theatre April 19–23 at 7:30 p.m., with Sunday performance at 2 p.m.
To reserve tickets, call 314-968-7128. Tickets are free for Webster students, faculty and staff with a valid ID; $15 for adults; and $7 for seniors, students, and Webster alumni and $2 for children 12 and under.
Synopsis:
It all starts with a man in a chair, who is feeling a little bit blue. To cure his sadness, he throws on one of his old favorite records: the original cast recording of the fictitious 1928 musical The Drowsy Chaperone. He paints us the picture of a hilarious wedding between famous actress Janet Van De Graaf and oil tycoon Robert Martin. The wedding is expected to run smoothly, but toss in an aspiring starlet, a desperate Broadway producer, a couple of suspicious pastry chefs, an erroneous womanizer, and a rather tipsy chaperone and well...things get a little complicated. Sit back and cure any of your "non-specified sadness," with this wildly humorous, Tony Award–winning musical.
tags:  webster today, college of fine arts, conservatory of theatre arts, students, academics,
News by Topic
Tag Categories
News by Topic
Tag Categories