Webster's Partnership with Metro Transit Continues
Aug. 24, 2017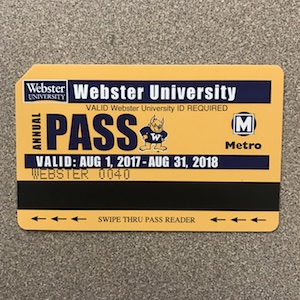 For the sixth year in a row, the Webster University and Metro Transit partnership has made it convenient for students to travel to campus and explore St. Louis all at no cost.
Metro U-Passes are again available to students, faculty and staff. 

The U-Passes allow students to ride the Metro Bus and Metro Link transportation at no charge and are valid from August 1, 2017 to August 31, 2018.
New U-passes are currently available at the Business Office, located in Webster Hall room 101. Passes from 2016 will expire at the end of August. 
The partnership between the University and Metro is a result of a Delegates Agenda meeting that discussed ways to improve students' experience. 
"The Metro U-Pass program has been very popular throughout the years and is an enormous benefit to our community," said Carol Findley, Bursar Account Assistant/Cashier. "Those who don't have cars are able to enjoy getting around St. Louis and experiencing everything the city has to offer.  
 Obtaining/Using Your 2017-2018 Pass
 Visit the Business Office with your Webster ID, ensuring the proper sticker for the current semester is adhered to the back.
Simply carry both your U-Pass and Webster ID as verification while riding the Metro bus and light rail system.
For bus and train schedules, route planning and other information navigating the Metro system, visit metrostlouis.org or the Campus Life section of the University website.
Car Sharing
In addition to Metro U-Pass program, Webster is also partnered with Enterprise CarShare to provide a Toyota Pruis Hybrid on campus to reserve online through the car sharing website.
The CarShare program is open to qualified students, faculty, and staff ages 18 and up (Ages 18-20 must submit an online Parent Acknowledgement Form). Once a person signs up they have 24/7 access to the vehicle, which is parked at the WVA Clubhouse in a designated spot.
This method of transportation was requested by Spring 2014 Delegates' Agenda.
For more information about Enterprise CarShare's eligibility requirements, rates, reservations and FAQ's visit their site.
This story was edited on 8/28/2017 to correct information on who is able to receive a Metro U-Pass. 
tags:  webster life, students, webster today,
News by Topic
Tag Categories
News by Topic
Tag Categories