Webster, French-Canadian Hip-Hop Artist, to Perform at Webster University
Mar. 8, 2017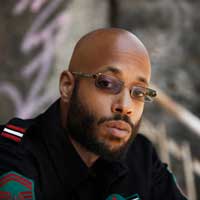 ST. LOUIS - Webster, a Canadian hip hop singer from Québec, will perform in Webster University's Sunnen Lounge on the home campus at 6 p.m. March 29. The event is free and open to the public.
Webster – the artist, not the university – has been performing since 1990 and releasing albums since 2000. For the past eight years, he has traveled the world to present writing workshops and demonstrate the creative ways he uses French in his music. The event is sponsored by Le Centre Francophone at Webster University. 
"This is a unique opportunity in St. Louis to see the French language being applied to a modern form of expression," said Lionel Cuillé, director of the Centre Francophone and a French literature professor at Webster University. "The mission of Webster University is to educate global citizens and we want to show our students that learning foreign languages is key for their education during the 'Mois de la francophonie' (March, month of Francophonie)"
Webster, (real name Aly Ndiaye), was born and raised in the Limoilou neighborhood of Québec to a Senegalese father and a mother from Québec.
He often lectures on the diversity and social impact of hip-hop music. He also likes to discuss the history of blacks in Québec and Canada since the beginning of the 17th century, and he has organized "Qc History X Tours" in Québec about the history and impact of slavery on the community.
Since 2009, he has presented numerous writing workshops on the creative use of French in music, including stops at Harvard, MIT, Howard, Georgetown and UCLA. He has also given concerts and writing workshops in several countries in Africa, Europe and Asia.
Webster is a founder and members of the Limoilou Starz collective, and a veteran and a pioneer of the Québec hip-hop movement. He began his career in the 1990s alongside Slik Cat and DJ Def. In 2000, the three produced the album "Winter Walk." In 2002 , they released the album "Limoilou Style.  In 2003 , Webster collaborated with Shoddy Abolik to release the first double album of Quebec rap. In 2007, Webster released his first solo album entitled "Sagesse immobile."  In 2010, he released his second studio album, "Le vieux de la montagne."
Besides the concert in the Sunnen Lounge, Webster also will host two workshops with high school students in the area who are taking French language classes. Those workshops will be held on Webster University's home campus earlier in the day.
For more information on Webster, visit http://www.websterls.com/. For more information on Le Centre Francophone, visit http://www.webster.edu/arts-and-sciences/affiliates-events/centre-francophone/.  
tags:  college of arts and sciences, home page, webster life, webster today, students,
News by Topic
Tag Categories
News by Topic
Tag Categories