Arcade Gallery Presents 'Freedom: The American Hustle, The Poetry Series' Nov. 17
Nov. 14, 2018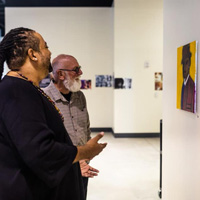 Join the Arcade Contemporary Arts Projects Gallery at the Gateway Campus for "Freedom: The American Hustle, The Poetry Series," to be held Saturday, Nov. 17, from 1:30-4 p.m. The voices of several female poets reflect on the cultural perspectives and concept of freedom of the time.
The voices of several female poets reflect on the cultural perspectives and concept of freedom of the time. It is also a great time to spend time in the Gallery's exhibition, "Freedom: The American Hustle," now open through Dec. 8, and undeniably absorb how our experiences and struggles intersect with one another's, through a variety of mediums.
Featured Poets
DuEwa Frazier has been honored with a Mayor's Proclamation in St. Louis, a Black Caucus of ALA Conference Literacy Presenter Award, Writers Digest Publishing Awards honorable mention, and NAACP Image Award nomination.
Pamela Garvey has begun speaking out about living with the often embarrassing, life-changing disease, chronic interstitial cystitis. An author of two chapbooks of poetry, Fear (semi-finalist for the New Women's Voices Competition) and Things Impossible to Swallow, Garvey has published poems, short stories, articles and book reviews in numerous magazines and literary journals throughout the United States. She is a full professor of English at St. Louis Community College-Meramec and co-founder of Words on Purpose (a committee of socially concerned writers). The Disease that Begins with I narrates her experience of self-advocacy and coping with interstitial cystitis as well as how that diagnosis coincided with her struggles parenting a violent child.Pamela Garvey's poems, short stories and book reviews have appeared widely in American magazines and literary journals including Esquire, Missouri Review, and Spoon River Poetry Review. In addition to Seven Miles Deep and Fear, both available on Amazon, her ebook Things Impossible to Swallow is available as a free download from 2River Press.
Enya Goliday is a collector of art, typewriters, Alice in Wonderland and true crime memorabilia. She's a poet, playwright, fiction writer, armchair detective, amateur photographer, Reiki master, Buddhist-Christian, and future world traveler. Her work has appeared in A Story in 100 Words, Poetry Quarterly, League for Innovation Anthology, which featured her national award winning play Small Talk. She has been part of Meramec's Play Eruption, River Styx's Hungry Young Poets series, and Poetry at Foam. She resides in Overland, Missouri with her miniature library, and her cat, Nefertari.
Susan "Spit-Fire" Lively is a poet, spoken word artist, producer, photographer, educator, and activist from Belleville, Ilinois. Co-organizer of "100,000 Poets & Musicians for Change – St. Louis" since its inception in 2011; Susan also produces the series' "First Bloom" and "Women For Peace", and co-produces the "Dia de los Muertos Fiesta".  In 2016 she became an Officer of Urb Arts' Executive Board. In January of 2017 Susan produced the St. Louis leg of the international event "Poets & Musicians Against Trump" (with co-producer John Blair). Lively's been featured on "Literature For The Halibut", "The Arts with Nancy Kranzberg", the "Healthy Living Program" and PBS' "Living St. Louis". She has taught spoken word and creative writing at Confluence Academy, Foster and Adoptive Care Coalition, and for the Nine Network and St. Louis Fringe. Susan's work has been published in "Static Movement", "Postcard Shorts", "Head To Hand", "The East St. Louis Monitor", "The PEN", "Chance Operations", "Drumvoices Revue 20th Anniversary Edition", "SIUE News", "Big Bridge", "No Vacancy" and the social justice anthology "Crossing the Divide."
Em Maxey
Stefene Russell is a poet and writer living in the St. Louis Place neighborhood. She's the author of the chapbook "Inferna" (Intagliata Press, 2013), "The Possum Codex" (Otis Nebula, 2015) and "77 Incantatory Essays" (forthcoming from Spartan Press in December). She is the 2018 poet-in-residence at Laumeier Sculpture Park and the unofficial poet of Helen Street, the shortest street in St. Louis.
Victoria Isabella Walls is currently pursuing her Master of Arts in Teaching English as a Second or Foreign Language/ESL Language Instructor at Webster University. A Tennessee native, Walls is an alumna of Saint Louis University and The University of Missouri-St. Louis. During her MFA, she held multiple artistic leadership positions such as poet laureate and president of the Graduate Writers Association. She is now an instructor of English as a Second Language at Saint Louis University and was previously an assistant editor for Boulevard Magazine and WomenArts Quarterly. She is also a recipient of a Watering Hole Fellowship. Poems from her manuscript We Talked About the Light are featured in Slippery Elm, Architrave Press, The Seattle Review, Big Muddy, and december magazine. She can also be found in "Voices at the Corner," a blog for The Center for Social Empowerment where she served as poet in residence. She is an adjunct instructor at UMSL and Saint Louis University.
"Freedom: The American Hustle, The Poetry Series"
Saturday, Nov.17, from 1:30-4 p.m. 
Arcade Contemporary Arts Projects Gallery at the Gateway Campus
812 Olive Street, St. Louis, MO 63101
tags:  college of fine arts, extended campus, webster life, webster today, arcade gallery, community engagement, diversity and inclusion,
News by Topic
Tag Categories
News by Topic
Tag Categories