Confucius Institute Hosts 'Doing Business in China: What they don't teach you in business school'
Sep. 5, 2018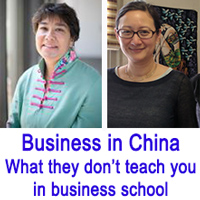 The Confucius Institute at Webster University will host an event, "What They Don't Teach You about Doing Business in China in Business School," on Wednesday, Sept. 26, 9-10:30 a.m. in the Browning Hall auditorium on the main campus in Webster Groves.
Hear about this topic from Elanah Uretsky, assistant professor of global health, anthropology, and international affairs at Brandeis University.
A reception follows Uretsky's talk, which is moderated by Elsa Fan, assistant professor of anthropology at Webster University.
Uretsky's research interests include medical anthropology, HIV/AIDS, gender roles and disease transmission. She is particularly interested in the social context of sexually-transmitted diseases.
Her work highlights the interaction of governance and HIV/AIDS in China and raises awareness of the pivotal role that men, especially "mobile men with money," play in the spread of the epidemic.
In her first book, "Occupational Hazards: Sex, Business, and HIV in Post-Mao China" (Stanford University Press, 2016), Uretsky examines how the networking practices that hold together Chinese social fabric and have led to the China's economic rise facilitated the development, transmission, and administration of China's HIV epidemic. More recently, she has expanded her focus to the role of migration in the spread of the epidemic in the region.
tags:  academics, college of arts and sciences, faculty, global, confucius institute, school of business and technology, webster life, webster today,
News by Topic
Tag Categories
News by Topic
Tag Categories