CMS Celebrates a Musical and Cultural Adventure with Explore Music! The Philippines
Apr. 3, 2018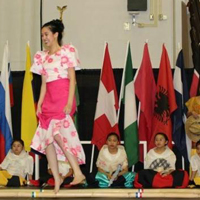 Join the Community Music School of Webster University on a musical and cultural adventure exploring The Philippines on Sunday, April 29 from 12:30-3:30 p.m.. Our theme is Barrio Fiesta, meaning "neighborhood festival."
Enjoy authentic music, dance, food for sale, beautiful displays of traditional decorations, art and cultural exhibits.
From 12:30 - 2 p.m. fun activities include:
Music by a traditional rondalla
Jewelry and amulet making
Games including Sungka (a popular counting game), 
Craft Corner - star lanterns and maps of the Philippines
YoYo activity with Kevin Eulalia
Traditional dress to try on
Music will provided by a traditional rondalla composed of five musicians from Chicago including Judy Tomas (laud), Linda Sauco (banduria), Jun Reyes (lead guitar), Dr. Narge Chato (guitar), and Jun Dela Pena (bass guitar). A rondalla is any group of musicians that play string instruments with a plectum or pick, but traditionally includes mandarin-style instruments like the bandurria or the laud.
At 2 p.m. we'll parade with our jewelry, amulets and borrowed costumes then gather at 2:30 for a presentation of music and inter-generational dance from the Philippines Arts Foundation. After the presentation, try some of the traditional dances and do some tinikling! If you don't know what tinikling is - come find out!
This is a FREE event and will take place in The Commons of the East Academic Building (EAB) at 545 Garden Ave. on the campus of Webster University just east of the CMS Center. Plenty of free parking is available right across the street in the Garden Park Plaza Parking Garage.
About CMS
Founded in 1925, the Community Music School of Webster University (CMS) offers outstanding music education and performance opportunities to students of all ages and abilities and serves the entire St. Louis metropolitan region. CMS' Preparatory Program (Prep) is designed to augment the individual music study of exceptionally talented string, woodwind, brass, and piano students who anticipate pursuing a career in music. Utilizing the vast artistic resources of the Greater St. Louis region, including the St. Louis Symphony, area University, and other music professionals, as well as Community Music School and Webster University faculty, the Preparatory Program offers high caliber instruction, performance opportunities, and artistic mentoring in one comprehensive curriculum.
The Community Music School of Webster University is accredited by the National Association of Schools of Music and is a certified member of the National Guild of Community Schools of the Arts. The Community Music School receives assistance from the Arts and Education Council of Greater St. Louis. The Preparatory Program is supported in part by an award from the National Endowment for the Arts.
tags:  webster life, webster today, community music school, department of music,
News by Topic
Tag Categories
News by Topic
Tag Categories