CMS Faculty Member, Parent Collaborate on Book of Jazz for Young Violinists
Aug. 30, 2018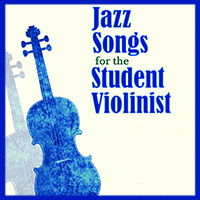 The Community Music School of Webster University (CMS) is proud to announce that Sher Music Co. has published Jazz Songs for the Student Violinist written by noted CMS Suzuki violin teacher and ensemble director Joanne Keefe, and Kevin M. Mitchell, CMS parent, jazz musician and author of music education literature.
"Joanne has taught Suzuki violin lessons to my boys, Owen and Beckett, at the prestigious Community Music School in St. Louis for 10 and 8 years, respectively," Mitchell says. "When I first proposed the idea of performing some jazz, she was supportive, and we were both surprised there were no good violin-specific books available that adhere to the high pedagogical standards we were looking for."
So they came up with a book designed to introduce jazz to violin students in their beginning years and take them to more advanced stages.
The book includes standards such as "Ain't Misbehavin'," jazz classics such as Horace Silver's "Song for My Father," and "Orange Colored Sky" made popular by Nat King Cole. It even includes a jazzy take on the 'Twinkle Twinkle' theme so there's at least one piece for all levels up to level five.
CMS director Carol Commerford says, "This book represents a very unique and special partnership between an instructor and parent to make learning music a fun and deeply enriching experience. There are going to be some big smiles on our student's faces thanks to Joanne and Kevin!"
Book Reviews
The book has already received some rave reviews and endorsements:
"An excellent introduction for young violinists to the uniquely American art form of jazz and improv! The brief histories about some of our jazz greats are just wonderful. I wish this was around when my boys were learning to play—they would have loved it!" —Maureen Byrne,Senior Director, Education & Community Partnerships, St. Louis Symphony Orchestra
"Jazz Songs for the Student Violinist offers a step-by-step and user-friendly approach to playing jazz. Students learn tunes—each with an excellent historical description—commonly found in the jazz canon and learn accessible improvisational techniques using rhythm, embellishment, and the blues. This book is a wonderful supplement to the Suzuki method!" —Matt Turner, Cellist, Jazz & Improvisational Music Department, Lawrence University Conservatory of Music
"This is book is full of important information for any aspiring musician that would like to open their minds to the language of jazz and improvisation. With clear laid-out steps in learning how to play tunes, this book should set up all the important foundations for future roads in improvisation." —Avi Friedlander, Director of the Barston Suzuki Center at the Music Institute of Chicago
How to Order
Jazz Songs for the Student Violinist is available/can be ordered from any local music store that sells print music or at the traditional online retailers. For more information go to shermusic.com.
tags:  college of fine arts, faculty, webster today, commmunity music school, department of music, community engagment,
News by Topic
Tag Categories
News by Topic
Tag Categories