CMS Young Composers Competition Entry Deadline Oct. 19
Aug. 20, 2018
Since 2004, the Young Composers Competition has recognized and encouraged the efforts of those between the ages of 12 and 21 who are involved in the creative process of composing music. This program, unique to the St. Louis region, is an open competition which has received submissions from St. Louis and throughout the nation.
Each year brings a new nationally known guest composer who is passionate about working with future generations of composers. This year, CMS will welcome Niloufar Nourbakhsh as Guest Composer for their 2018-2019 Young Composers Competition.
Entries are currently being accepted for the 2018-2019 Young Composers Competition. Interested composers should visit webster.edu/community-music-school/programs/young-composers-competition for more information. The deadline for submissions is Oct.19, 2018 and winners are announced no later than Jan. 9, 2019.
Student composers, ages 12-21, in two age categories: Level I  for students ages 12-16 and Level II  for students ages 17-21. Awards include a professional performance, a recording of composition and recognition at the Emerging Composers Concert on March 23, 2019, and a written critique and conference with guest composer.
For more information and full contest rules, visit webster.edu/cms or call (314) 968-5939.
About Niloufar Nourbakhsh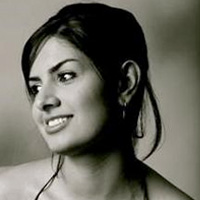 Described as "stark" by WNPR, Iranian composer Nourbakhsh's music has been commissioned and performed by Symphony Number One, Spark and Echo Project, Women Composers Festival of Hartford, Pianist Erika Dohi for Metropolis Ensemble Piano Series, Calidore and Cassatt String Quartets, and Invoke Quartet at numerous festivals, Atlantic Music Festival, Seal Bay Festival of American Chamber Music, SPLICE institute, New Music for Strings, MusLab electroacoustic festival in Mexico, University of Tennessee Contemporary Festival and more.
Nourbakhsh is founder of Iranian Female Composers Association and a strong advocate of music education. She has worked as the site coordinator of Brooklyn Middle School Jazz Academy sponsored by Jazz at Lincoln Center. She is currently a Teaching Artist for NY Philharmonic Very Young Composers program and teaches piano at Brooklyn Music School. This summer, she is working with Akropolis Reed Quintet for a new piece as part of I-Park Foundation Artist in Residence.                                 
Nourbakhsh is a Global Citizen Scholarship recipient of Goucher College as well as a Mahoney and Caplan Scholar from University of Oxford. Among her teachers are Lisa Weiss, Laura Kaminsky, Daniel Weymouth and Daria Semegen. She is currently pursuing her Doctorate degree in music composition at Stony Brook University under the supervision of Sheila Silver.
tags:  college of fine arts, webster life, webster today, comunity music school, global,
News by Topic
Tag Categories
News by Topic
Tag Categories