Webster University Community Gets Inside Look at 'Sverdrup Reimagined'
Oct. 18, 2018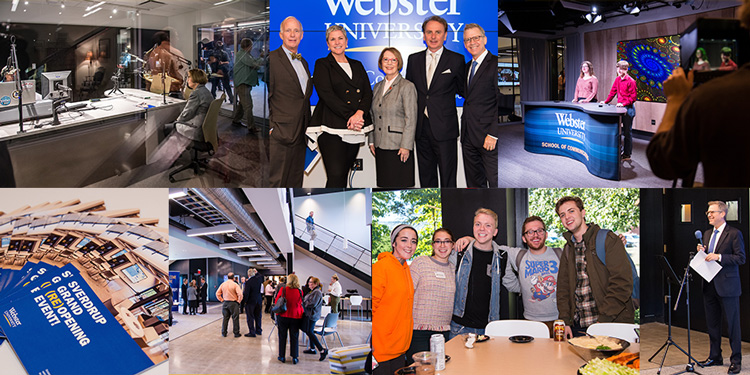 The Webster University community enjoyed an inside look at how all the spaces came together in the newly renovated Leif J. Sverdrup Complex during a grand (re)opening event on Tuesday, Oct. 16.
School of Communications Dean Eric Rothenbuhler emceed an event that brought alumni, students, faculty, staff, administrative leaders and community guests together to explore the many ways the learning spaces in the central core of the building have been reimagined for 21st century communications.
The center of the building re-opened for courses at the beginning of the fall term, with each remodeled space having a unique design, setup, and function, within an overall vision that enhances multi-disciplinary, multi-media, collaborative work. 
The new spaces include a Student Services Suite, Media Commons, One-Button Studio where students can record quick clips, Radio & Production Studio, Student Media Lab, Design & Production Lab, Testing & Criticism Lab for gaming testing and evaluation, and an Active Learning Lab.
In addition to its primary function, each space is designed to serve multiple constituencies and facilitate the interaction of students and faculty across disciplines, media, and areas of specialization.
The following video, which was played at the event, takes viewers inside each of these spaces and explains their functions, while sharing reaction from faculty and students:
At the event, Rothenbuhler gave thanks to the many people in the community who contributed to the thoughtful design and logistics for construction over the past year. He introduced the featured speakers, including President Elizabeth (Beth) J. Stroble, Provost, Senior Vice President and Chief Operating Officer Julian Schuster, Board of Trustees member Clark S. Davis, and School of Communications Advisory Board Chair Amy Shaw.
President Stroble spoke of this as another transformative moment in Webster's 103-year history adapting to society and students' changing needs. Schuster reflected on the context of the Sverdrup renovation following other new learning spaces like the East Academic Building opened in 2012 and the Browning Hall, Interdisciplinary Science Building opened in 2017.
Davis, who is principal consultant at Cameron MacAllister Group, had a particular historic context to share: He was principal architect when Sverdrup was originally opened in 1988, and he knew the building's namesake, Leif J. Sverdrup, a Norwegian-born U.S. general who was instrumental to raising funds for Webster in the 1970s. 
Shaw, who is senior vice president of engagement and content at the Nine Network, the St. Louis affiliate of PBS, reflected on the many Webster graduates she has personally seen excel in communications.
It's important that graduates learn in modernized spaces like Sverdrup, she said, because she counts on them to bring the latest tools and trends to the field.
tags:  academics, home page, president, provost, school of communications, alumni, webster life, webster today,
News by Topic
Tag Categories
News by Topic
Tag Categories