Highlights: 'Doing Business in China: What They Don't Teach You in Business School'
Sep. 28, 2018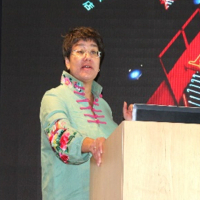 The Confucius Institute at Webster University hosted an event, "Doing Business in China: What They Don't Teach You in Business School". Students, staff, and faculty listened to anthropologist Elanah Uretsky, as she shed light on the intricacies of how business culture has affected public health in China. Uretsky, an assistant professor of global health, anthropology, and international affairs at Brandeis University, has conducted extensive research on public health in China.
Uretsky discussed a number of topics relating to the role of Chinese business culture; focusing on the HIV epidemic, examining how cultural concepts and practices in China compel the intersection of business and risky behavior in relation to the spread of the disease. Uretsky went on to review how she conducted her research in spite barriers females might encounter in obtaining sensitive information. She also discussed how business practices in China relate to historical practices and customs from nearby countries, and more.
Following her talk, students and faculty had the opportunity to converse further with Uretsky during a reception.
Learn more about the Confucius Institute at Webster University here. 
tags:  global, webster life, webster today, confucius institute, students, school of business and technology,
News by Topic
Tag Categories
News by Topic
Tag Categories