50 Years of Great Performances: Conservatory Celebrates 50th Anniversary April 20-22
Feb. 26, 2018

Webster University's Conservatory of Theatre Arts marks its 50th anniversary during this 2017-2018 academic year, and will hold a celebration weekend April 20-22.
Student theatre has been a part of Webster University since its earliest days. Known as the Loretto Players for many years, the theatre program evolved over time to become the Conservatory of Theatre Arts in 1967 under the leadership of then-department chair Peter Sargent, now dean of the Leigh Gerdine College of Fine Arts. Today the Conservatory is considered one of the most respected and renowned programs in the country. 
A bow to the past and a spotlight on the future.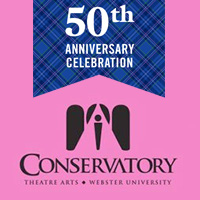 "We are so proud to welcome the community to celebrate the Conservatory's 50th anniversary with us," said Webster University President Elizabeth (Beth) J. Stroble. "This occasion is a reminder of the power and impact that investing in the arts can have. Since Webster opened the Loretto-Hilton Center half a century ago and launched the Conservatory soon afterward, St. Louis's theatre community has blossomed. Our graduates and faculty are a significant part of that growth -- both those who have continued their career locally and those who return for events like this, inspiring us with their artistry on stage and screen."
Learn more about the Conservatory's history, partnerships and programs, and see more photos at webster.edu/conservatory50.
Join the Celebration! 
Festivities for Conservatory alumni are planned throughout the weekend, including special recognition of Sargent's many contributions to both the Conservatory and the University. The public is invited to join with alumni for Saturday evening's Conservatory Celebration, and the Conservatory production of Brigadoon on Friday evening, and Saturday and Sunday afternoons.
Conservatory Celebration with host Jerry Mitchell
Loretto-Hilton Center for the Performing Arts
Saturday, April 21, 7:30 p.m.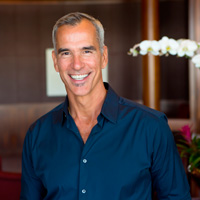 Tony Award-winning choreographer and director Jerry Mitchell will serve as emcee for a festive evening of performance and heartfelt sentiment, shared by Conservatory faculty and alumni from various decades and disciplines. 
Performances and tributes for the Saturday evening celebration are still being scheduled. The players will be updated in this article as confirmed leading up to the event.
General admission tickets are $25. Click here to purchase tickets.
Note: Community members and all non-Conservatory faculty, staff and students who wish to purchase tickets should select "Saturday Evening Conservatory Celebration only."

Conservatory Production: Brigadoon
Loretto-Hilton Center for the Performing Arts
Friday, April 20, 7:30 p.m.
Saturday, April 21, 2 p.m.
Sunday, April 22, 2 p.m.
Music by Frederick Loewe
Book and Lyrics by Alan Jay Lerner
When New Yorkers Tommy Albright and Jeff Douglas get lost on a vacation in the Scottish Highlands, they stumble into Brigadoon. Brigadoon is a mythical village that appears for a single day once every hundred years. After falling head over heels for the headstrong Fiona, Tommy is forced to choose between returning to the world that he knows—or taking a chance on love in a mysterious new place. Including such famous hits as "Heather on the Hill" and "Almost Like Being in Love," Lerner and Loewe's Brigadoon has music that will sweep you off your feet coupled with a whimsical story that is a tribute to the power of true love.
For all Brigadoon performance tickets, please call (314) 968-7128.
About Webster University's Conservatory of Theatre Arts
Located in St. Louis, Missouri, the Conservatory of Theatre Arts at Webster University has been training theatre students for the professional world for over half a century. The Conservatory at Webster is a professional training program for acting, musical theatre, directing, theatre studies and dramaturgy, design, technical theatre and stage management.
One of the distinguishing elements of Webster's Conservatory is its integrated association with professional theatre companies, two of which are located on campus: The Repertory Theatre of St. Louis and Opera Theatre of Saint Louis. Webster also enjoys a one of a kind association with St. Louis professional theatre organizations including, the Muny, Variety: the Children's Charity, Shakespeare Festival of St. Louis and the Lyceum Theatre in Arrow Rock, Missouri, the state's oldest Equity Theatre.
Conservatory alumni have won a number of awards including Golden Globes, Tony Awards, Obie Awards and Emmys.
tags:  alumni, announcement, college of fine arts, featured, home page, webster life, webster today, conservatory of theatre arts,
News by Topic
Tag Categories
News by Topic
Tag Categories