Webster University and CSPRC Partner to Offer 20 percent off Tuition for Nonprofit Employees
Oct. 2, 2018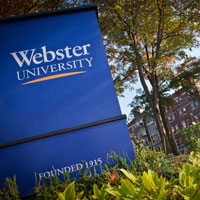 ST. LOUIS – Webster University announced today a collaboration with the Community Service Public Relations Council (CSPRC) to expand opportunities for nonprofit employees to further their education and professional development.  CSPRC members, as well as their nonprofit co-workers, are now eligible for a 20 percent tuition discount in select undergraduate and graduate programs at Webster University.
"The goal of this program is to develop a stronger nonprofit community," says Barrett Baebler, associate professor,  Webster University Walker School of Business & Technology.  "With this collaboration, Our Preferred Partner tuition rate for eligible nonprofit employees provides more access to higher education, academic opportunities and professional development."
"We are launching this partnership with Webster University during a year of innovation for CSPRC," explains Neosha Franklin, president of CSPRC and communications coordinator of St. Louis Community Foundation.  "Given its graduate courses in nonprofit leadership, a Webster education is a excellent fit for our members. It accommodates the schedule of an adult student and understands that nonprofit employees must focus on both the mission and business of running a nonprofit."
Webster University offers both a graduate certificate in nonprofit management and a Master of Arts in nonprofit leadership.  The CSPRC tuition discount also applies to a variety of graduate and undergraduate degrees and certificates. 
Information sessions and one-stop registration will be held at Webster University at the Webster Groves campus on the following dates:
Thursday, October 4, 2018 from 5 pm to 7 pm
Thursday, November 8, 2018 from 5 pm to 7 pm
Saturday, December 8, 2018 from 10 am to noon
To register for an information session please visit www.webster.edu/stl
A live webinar specific to nonprofit organizations will take place on Wednesday, October 17, 2018 from noon to 1 pm. For more information on the webinar, or the CSPRC tuition reduction program, call Denise Harrell at 314-246-8713, email harreldm@webster.edu, or visit www.webster.edu/nonprofit.
###
Community Service Public Relations Council (CSPRC) members are nonprofit employees who focus on communications, media relations and fundraising for community service agencies and organizations in the St. Louis region. To become a member, see www.csprc.org or call 314-461-2237.
With its home campus in St. Louis, Missouri, USA, Webster University (www.webster.edu) comprises an action-oriented global network of faculty, staff, students and alumni who forge powerful bonds with each other and with their communities around the globe. Founded in 1915, Webster is a private non-profit university with nearly 14,000 students studying at campus locations in North America, Europe, Asia and Africa and in a robust learning environment online. The university is committed to ensuring high-quality learning experiences that transform students for global citizenship and individual excellence.
tags:  school of business and technology, webster life, webster today,
News by Topic
Tag Categories
News by Topic
Tag Categories