Four Students Earn the Dean's Award for Service
Dec. 10, 2018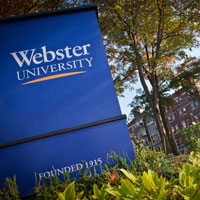 Four students have been selected by John Buck, associate vice president for student affairs and dean of students, to receive the Dean's Award for Service for the Fall 2018 semester: Katie Fields, John Wallis, Fayeshun Brown, and Brenda Tinnemeyer from the Webster Groves campus.
According to Buck, in order to be considered for the Dean's Award, one must be nominated by a member of the Webster University community for performing a valuable service. Buck said the term "service" encompasses a broad range of contributions made by students, both on- and off-campus.
Katie Fields, a senior management major from Defiance, Missouri, was nominated by Sarah Hill, a Webster freshman. She was nominated for her extensive involvement through the Campus Election Engagement Project (CEEP), for serving as both a Student Ambassador and a Student Career Advisor in the Career Planning and Development Center, and for her many off-campus involvements which include an internship for the Starkloff Disability Institute, volunteering for FestAbility, and serving as an active member of her church.
John Wallis, a sophomore education major from, Neosho, Missouri, was nominated by Gina Jensen, director of Forensics and Debate. He was nominated for serving as an officer of a number of clubs, as well as the Forensics and Debate Team. Even more impressive, he serves as a student board member of the Speech and Theatre Association of Missouri. John is also working to change and better standards of education across the state with the Board of Education.
Fayeshun Brown, a senior biological science major from Waldorf, Maryland, was nominated by Aathif Shamail, a fellow Webster senior. She was nominated for "going beyond the call of duty" as she serves as Student Government Association vice president and her recent service as an advocate for Planned Parenthood. Fayeshun also volunteers at Cornerstone Educational Center.
Brenda Tinnemeyer, a senior international studies major from Jakarta, Indonesia, was nominated by Bethany Keller, assistant director of the Multicultural Center and International Student Affairs. She was nominated for being "the glue that holds the international orientation student staff together."  Brenda is credited in helping to create valuable online resources, coordinating various events and programs, and consistently delivering high-quality results with a positive attitude.
Up to four students from any Webster campus are recognized each semester with the Dean's Service Award. The awards will be presented at programs to be held later this semester, in Webster Groves.
tags:  home page, webster life, students, webster today,
News by Topic
Tag Categories
News by Topic
Tag Categories