Destination: WELLNESS 4-Week Challenge
Mar. 13, 2018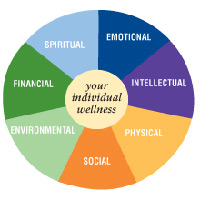 The Webster Wellness Committee is offering a unique approach to wellness through Destination: WELLNESS March 28-April 24.
Destination: WELLNESS is a four-week challenge open to all students, staff and faculty at all campus locations. Focus on your health and wellness from the inside out, based on your personal goal(s) that you set in one or more of the following elements of the Wellness Wheel: spiritual, emotional, intellectual, physical, social, environmental, financial.
Plan to attend the kick-off and registration Wednesday, March 28, 12 p.m. Sunnen Lounge or via WebEx (visit that link and use password: wellness, or search "Wellness" in the meeting center in WebEx to find the March 28 kickoff.).
Path 1 - Improve Your Move         
March 28 - April 24   
Commit to active movement 3 times a week for 30 minutes or more. Walk, run, cross-fit – it's your choice! Track your time and exercise and submit it weekly for extra chances to win a grand prize. The top three contenders who log the most sessions will be recognized at the Year End Wellness Celebration.
Path 2 - 2nd Annual Indoor TRY-athlon  
April 16-22  
Participate as an individual or as part of a team, as you/your team run 2 miles, bike 10 miles and swim 400 yards between April 16 and 22. Activities can be completed all in the same day or anytime throughout that week, at any indoor location, from your neighborhood gym to the University Fitness Center. Final totals need to be confirmed at the Fitness Center or via a picture submission showing your totals. The top three in each division will be recognized at our Year End Wellness Celebration.
Path 3 - Weekly Pit Stops   
Wednesdays at 12 p.m., Apr 4, 11 & 18
Yoga – Led by Viva the Yoga students, April 4, EAB 137 and via WebEx
Wellness Champion Walk - Led by President Beth Stroble, April 11 starting outside the Library and on Facebook LIVE
Wellness Scavenger Hunt – follow clues and explore wellness, April 18 starting outside the Library
All participants receive Wellness "bling" plus a chance at weekly and grand prizes. 
Look for regular emails to keep you motivated and report the progress you are making on your journey to increase your chances for winning!
Join us for our Year End Wellness Celebration Thursday, April 26, 12 p.m. in Sunnen Lounge or via WebEx. 

Register online through April 6 at http://bit.ly/DestWell

Please contact wellness@webster.edu with questions
tags:  webster life, webster wellness, employees, students, faculty, human resources, webster today,
News by Topic
Tag Categories
News by Topic
Tag Categories