International Festival 2018 Will Explore the Worlds of Webster April 13
Mar. 29, 2018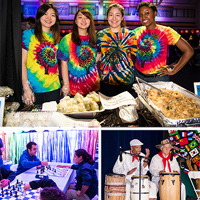 International Festival 2018: Exploring the Worlds of Webster will be held on Friday, April 13 from 4:30-7:30 p.m. in Grant Gymnasium. Bring your Webster ID for admission to the festival.
The annual Webster University International Festival, or I Fest, is held each year in April. The exposition features food, music, dance, and displays, representing many different countries and cultures.
The Multicultural Center and International Student Affairs presents I Fest each year to celebrate and showcase the international diversity of Webster University.
About I Fest
I Fest features professional performances, student performances, arts and crafts, cultural booths with international games, cultural activities, a variety of ethnic foods and sweets. I Fest provides Webster University international students an opportunity to be ambassadors for cross-cultural sharing.
I Fest is sponsored by the Multicultural Center and International Student Affairs and the Student Activity Fee with thanks for the additional support from the Office of Study Abroad and the Webster Staff Alliance.
Call For Volunteers
We're looking for volunteers to help with set up, activities, food and more. Click here to sign up!
tags:  webster life, webster today, students, mcisa, community engagement,
News by Topic
Tag Categories
News by Topic
Tag Categories