'Paris Noir: African Americans in the City of Light' Premiere at Webster University Jan. 15
Jan. 10, 2018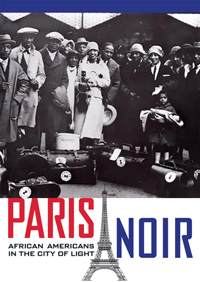 Webster University will host the St. Louis premiere of "Paris Noir: African Americans in the City of Light" on Monday, Jan. 15, for the Martin Luther King Jr. holiday.
The screening at 7 p.m. in Winifred Moore Auditorium on Webster University's main campus is free to the public, sponsored by the First Congregational Church of Webster Groves, United Church of Christ. The screening will be followed by a discussion with one of the producers, Julia Browne.
Weaving forgotten and little-known stories and themes from World War I, the Jazz Age of the 1920s, up to the German occupation of WWII, this compilation of vintage film footage and rare photographs documents a community of American expatriates in Paris free from the constraints of their oppressive home country.
Witness their effect on the cultures of France and the entire world, and the affirmation they could have experienced only away from home, as you listen to the music of this exciting period and stimulating commentary by leading experts. Learn more at www.africanamericansinparis.com/paris-noir.
Also featured is Josephine Baker, the former St. Louisan who evolved from dancer to civil rights activist to decorated WWII French Resistance spy. Meet entrepreneur Bricktop, and jazz genius Sidney Bechet. Harlem Renaissance writers Langston Hughes and Claude McKay are key figures in the film both for what they wrote about France and for the connections they made with top writers from France's Black African and Caribbean colonies struggling to express a Black identity that was "as strong, worthwhile and valuable as anything else in any other culture." Completing the picture are the achievements and challenges of Henry Ossawa Tanner and Nancy Elizabeth Prophet, two of the foremost artists of their time.
A short epilogue features post WWII expatriates Richard Wright, James Baldwin, Miles Davis, Sidney Bechet and others, and concludes with the situation of African Americans and Black French people in the France today.
Community Interest
Paris Noir is appropriate for organizations and institutions interested in learning about African American history, literature, journalism, entertainment, fine arts, and entrepreneurship, and how these dozens of expatriates were not only influenced by the freedom they found abroad but also affected the life and culture of the French capital and people.
tags:  academics, home page, webster life, community engagement, diversity and inclusion, webster today,
News by Topic
Tag Categories
News by Topic
Tag Categories