Webster University Athletics Captures 2017-18 SLIAC All-Sports Award for 17th Time
May. 17, 2018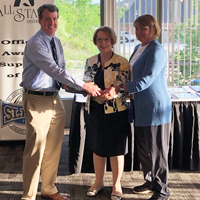 Webster University took home the 2017-18 St. Louis Intercollegiate Athletic Conference (SLIAC) All-Sports Award during the SLIAC Awards Banquet held at Tapawingo National Golf Club May 8.
With its win this school year, Webster has now won the SLIAC All-Sports Trophy 17 times in the 20-year history of the award, including winning the honor last season. In fact, the Gorloks have won the award 13 times in the last 14 years. The exception to their winning streak was in 2015-16, finishing as runner-up to Westminster College, who took home the trophy.
During the 2017-18 season, Webster took home SLIAC titles in women's soccer, women's cross country, men's golf, baseball, women's tennis and women's track and field. In addition, the Gorloks finished second in men's soccer, men's track and field, tied for second in volleyball and was third in women's basketball, men's tennis, men's cross country and tied for third in men's basketball. In fact, none of Webster's teams finished lower than fourth in any of the 14 conference sponsored sports they compete in.. 
Along with handing out the All-Sports Award on Tuesday night, the league also handed out awards for Team Sportsmanship, the SAAC Community Service Project Award, the league's Post Graduate Scholarship Award, the Lee McKinney Distinguished Service Service Award and also the SLIAC Class of 2018 Hall of Fame inductees. Among the Hall of Fame inductees was former Gorlok women's soccer player Christy Capkovic.
Learn more on this story and all Webster University athletic teams at the Webster University Athletics site.
tags:  webster life, webster today, home page, students, athletics,
News by Topic
Tag Categories
News by Topic
Tag Categories