Snapshots: Webster Team Races in Gateway Dragon Boat Festival
Jun. 27, 2018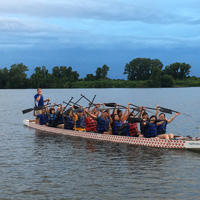 On Saturday, June 23, Webster University participated in the 12th Annual Gateway Dragon Boat Festival. Under the organization of the Confucius Institute at Webster University, Webster fielded a team of students, staff, and faculty to row in a traditional Chinese boat race at Creve Coeur Lake, the Gateway Dragon Boat Festival.
The annual event is hosted by the Signature Healthcare Foundation to benefit Operation Family Help, and organization that assists families with medical needs not covered by health insurance. Forty-two other teams from organizations around the St. Louis area competed, including Aetna, Monsanto, Tarlton, Centene Charitable Foundation and more.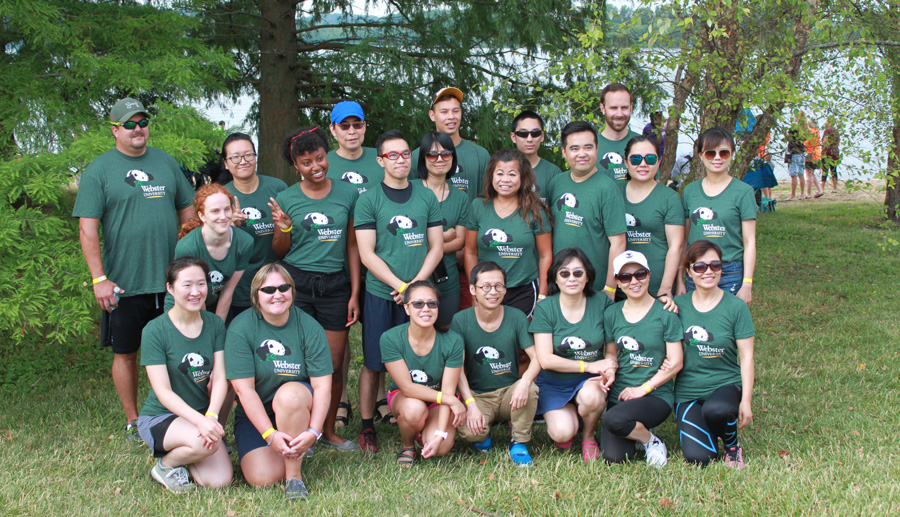 The Webster University team was comprised of members of the Webster community both far and near. Participants came not only from the main Webster Groves campus, but also from the St. Louis extended campuses, and even from the global campus in Chengdu, China. With most members being novice dragon boaters, they had only one hour-long training session to pull together as a team and learn to row before the main event. In spite of the challenge, they exhibited excellent teamwork and quickly grew into a fine squad. More importantly, the team members made new friends from throughout the Webster community and across the world, and had fun while showing off their Gorlok pride!
Dragon boating is a popular annual tradition in Chinese culture, where such festivals are often organized this time of year on the holiday Duanwujie. Dragon boats are long and narrow, seating 20 rowers as well as a steersman and a drummer. The drummer attempts to keep a beat that allows all rowers coordinate their movements, as this coordination makes the boat move faster. In addition to the races, participants enjoyed live musical entertainment, Chinese drumming performances, a children's play area, vendors and more.
One Webster team member summed up this day as "an unforgettable experience. Just incredible." Spirits were indeed high at the close of the event. While this was the first year Webster University participated in this event, the Confucius Institute hopes this is the beginning of a new tradition.
Submitted by Courtney LeCompte, Confucius Institute department associate
tags:  global, webster life, webster today, confucius institute, community engagement,
News by Topic
Tag Categories
News by Topic
Tag Categories