WILLOW Project Food Pantry Seeking Donations
Sep. 13, 2018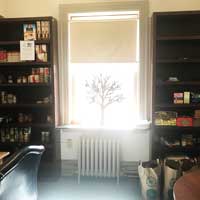 ST. LOUIS - Donations are now being accepted for the WILLOW (Women Initiate Legal Lifelines to Other Women) Project Food Pantry, established last September in Webster Hall.
The food pantry was created to address a national problem that was highlighted in a recent Washington Post story -  36 percent of college students in the U.S. face food scarcity issues.
The WILLOW Project was founded by Anne Geraghty-Rathert, a professor in the Legal Studies department at Webster University. The nonprofit organization is dedicated to improving the lives of women who cannot fully access the justice system, because of poverty, oppression, exploitation, and other injustices. The organization is rooted in assisting people who don't have a voice and are underrepresented. It strives to help people face crucial life situations and inequity in society, food scarcity being one of them.
"We realized circumstances hold students back from succeeding in school," Geraghty-Rathert said. "They feel ashamed when things are out of their control."
The goal of the on-campus food pantry is to provide a safety net for those that need assistance within the Webster community.
So far, the pantry has been a success, Geraghty-Rathert said—recently, a student who previously relied on the food pantry, reciprocated the generosity by donating food to others in need.
How To Utilize the Food Pantry
The WILLOW Project's food pantry is available to Webster University students, faculty, and staff. It's located in Webster Hall 316 from Monday through Friday, 7:45 a.m. to 9:30 p.m. Those in need are welcome to take as much food as they please and are encouraged to take food for others as well. The pantry is stocked with a variety of nonperishable food items but also occasionally has donated toiletry items, clothing, and bedding sheets when they have been donated.
Why the Food Pantry is Important
Geraghty-Rathert says that the food pantry is important to the community for a variety of reasons.  First of all, she believes that people should be aware there are some people on campus with an immediate need for food, but it is also important for people to better understand the challenging circumstances in which other people live. She says people's knowledge of the food pantry is important because it will help make Webster a better community.
"We should broaden our vision of life circumstances and support people. Knowledge of these issues make will make us better human beings," Geraghty-Rathert said.
Geraghty-Rathert also encouraged people to think of making a donation to the pantry saying people will make a noticeable impact when they donate, which empowers them to feel good about themselves.
How to Donate
If you would like to donate to the WILLOW Project food pantry, non-perishable food items can be dropped off at Webster Hall, room 317. All donations are greatly appreciated.
tags:  home page, webster life, webster today,
News by Topic
Tag Categories
News by Topic
Tag Categories