Webster University AAAC to Celebrate 50 Years
Nov. 15, 2019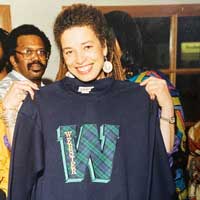 ST. LOUIS - The Association of African American Collegians (AAAC) at Webster University is celebrating 50 years as a student organization on campus this month. 
Started by veterans returning from the Vietnam War, the group has since become a multi-cultural student organization promoting unity and inclusiveness through community service and activist speakers.
AAAC continues today to address concerns of its membership, sponsor programs and discussions that bring cultural awareness to the Webster community and provides support and unity for its membership - just as it did in its inception.
Rene Murph, department associate in the Multicultural Center and International Student Affairs Department (MCISA), has supported AAAC since November 1990. She believes it has been successful and still exists today, because Webster listened to the needs of students, and continuously provided the support that was necessary to them, through the MCISA department's staff. MCISA is currently staffed by Director Colette Cummings, Assistant Directors Bethany Keller and Larry Morris and Murph.
Murph believes it is important for minority groups to be represented at "decision-making tables."
"Too many times in my experience, decisions are made for us without us," Murph said. "Having diverse representation on any committee or in any organization, from the beginning, sends a strong message to everyone who will be affected by the choices that are being made. There is more respect and buy-in for the work being done when the decision-makers look like the audience they will serve."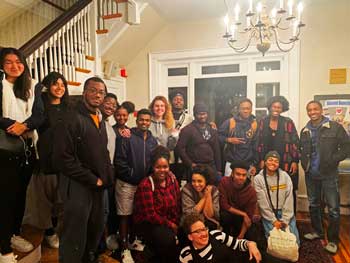 AAAC President Kristen Mclauchlin agreed with Murph. "This organization has helped me step out of my comfort zone, taught me patience, leadership, and what hard work truly means," she said. "It's pushed me to make an impact not just on others but also within myself."
After the Vietnam War ended, Black Veterans returning to St. Louis and enrolled at Webster University formed the Association for Black Collegians. The organization offered support to its membership, gave a voice to Black students on campus and sponsored student programs. The organization has moved and changed a lot over the past half-century, but one thing has remained the same: the importance of ensuring that minorities have a voice.
"We have the blessing of giving black students a voice on campus and letting them know they have a safe place to express their experiences about being black on a predominantly white campus," said Mclauchlin. "The fact that they know we're an outlet and an ally for whenever there is trouble going on in their life that makes me content."
"I think it's important for any minority group to be represented, for them to be at the table when important decisions are being made that include them," Murph said. "Being given the opportunity to participate, I think, allows for unity."
Unity, inclusion, and diversity of all ethnicities, races, and cultures. That's the song of the AAAC.  
Over the years, Webster University, AAAC, and the MCISA have partnered to bring several prominent speakers to campus since AAAC's beginning, speakers such as Betty Shabazz, Nikki Giovanni, Shirley Chisholm, Angela Davis, The Roots, Betty Thompson and civil rights activist A. Philip Randolph. 
AAAC has also served the extended community. Past trips include visiting Annie Malone Children's Home at Christmas bearing gifts and performing a talent show for the residents; and accompanying Webster staff to donate dressed baby dolls to Mathews Dickey Boys Club. The dolls were distributed to girls who attended their Christmas program. Boys at the event received gifts from the Salvation Army.
Murph said "the MCISA has done a lot to support minority students attending Webster University on the main campus, but it was the students who have kept the organization alive. It has been a pleasure for me to be able to support students through their transformation from new college students into individuals who speak up and request equity in every aspect of student life on campus."     
AAAC will host a 50-year Gala event on campus for students and alumni on Saturday, November 16, 2019 on Webster's main campus. 
tags:  alumni, home page, webster life, webster today,
News by Topic
Tag Categories
News by Topic
Tag Categories