Webster University Receives Three National Voting Awards
Nov. 12, 2019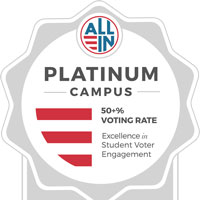 WASHINGTON D.C. - Webster University won three national awards for its efforts to register students to vote and to get them to the polls on election day. The University was recognized with two Best in Class Awards for having the highest voting rate and the highest undergraduate voting rate at a large, private, four-year institution and the Platinum SEAL Award for excellence in student voter engagement.
The awards were a result of Webster's 2018 participation in the ALL IN Campus Democracy Challenge, a nationwide initiative that recognizes and supports college campuses as they work to increase nonpartisan democratic engagement and promote full student voter participation. The awards ceremony was held at the Newseum in Washington D.C. on Nov. 12.
"We focused our efforts on both domestic and international students," Webster University student and 2018 Campus Election Engagement Project (CEEP) Fellow Katie Fields said. "While the international students were not eligible to vote, many of them admire the American democratic system and many of the issues Americans vote on impact the daily lives of international people living within our country."
Fields said the ALL IN Challenge Team held a mock election for international students, so they could be engaged in the process. Those students received "copies of the real ballot for Missouri and Webster's district so that all students could participate, regardless of whether they were eligible to," Fields said.
"Development of students as global citizens is something that sets Webster apart from other campuses," said Jennifer Stewart, director of the Office of Student Engagement at Webster University. "I see civic engagement as a huge piece of making someone a Global Citizen; these voter rates and recognition prove that our students are truly living these values by participating in the democratic process. WebsterVotes and the Office of Student Engagement are so proud of these numbers but are already looking forward to increasing opportunities for voter education, registration and voting for the upcoming 2020 elections."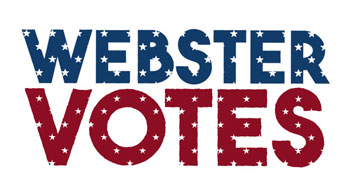 According to the ALL IN website, young adult voter turnout at the polls has been continually decreasing, especially during midterm elections. The combined percentage of young adults and college students who voted in the 2014 midterm elections was about 39 percent. In 2016, the ALL IN Challenge, as part of Civic Engagements U.S., started out on a mission to change that by improving civic learning and increase the voting rates and political engagement of college students across the nation. More than 200 schools joined the mission during its first year. Today, there are more than 560 participating institutions, spanning 48 states and Washington D.C, and including more than 6 million students.
At Webster University, the voting rate among students for the 2018 midterm elections was 54.7 percent—more than a 20% increase from 2014.
"[Voting] is a fundamental right and all citizens deserve to have laws and representatives reflect their opinions, values, and needs," Fields said. "As more people become democratically engaged, the government becomes more reflective of its people. By sharing these thoughts and basing our engagement around these ideals, I think we were really able to find success."
And that success came in the form of three awards. The University received the Platinum Seal Award, for excellence in student voter engagement and having a voting rate of over 50 percent and two ALL IN Challenge Best in Class awards for having the highest voting rate and the highest undergraduate voting rate at a large, private, 4-year institution. Fields was "beyond thrilled and absolutely shocked" to hear that Webster was receiving awards thanks to her team's efforts. "To see the data and to see the jump in engagement makes every bit of hard work put into these efforts worth it," she said.
"The rise in voter participation and engagement on college campuses in last year's midterms and what's sure to be a high turnout in 2020 can and will undoubtedly be tied to the hard work of the dedicated students, faculty, administrators, and partner organizations that are part of the ALL IN Challenge network," Executive Director of the ALL IN Challenge Jennifer Domagal-Goldman said. "We couldn't be more proud of the outstanding recipients of this year's ALL IN Challenge awards for their contributions to improving democratic engagement."
But the physical awards weren't the only tangible rewards to this experience, according to Fields. "The most rewarding part of this experience was really getting to engage and excite students who were politically apathetic before," she said. "It was amazing to be able to assist students in registering to vote, to share resources with them about ballot measures, and to see their excitement when they recognized that they do have a voice and that voting isn't too complicated."
To learn more about the ALL IN CHALLENGE, visit www.allinchallenge.org.
tags:  featured, home page, student affairs, students, community engagement, webster life, webster today,
News by Topic
Tag Categories
News by Topic
Tag Categories