'Best of Webster' Story Highlights from 2018
Jan. 4, 2019
Enjoy a look back at some of Webster University's biggest stories and farthest-reaching media hits with faculty experts during 2018. The following highlights include major stories for Webster and widely read or shared stories in news media:
100th Commencement Will Re-Open Muny Stage
Webster's 100th Commencement ceremony on May 11, 2019, will take place on the newly renovated stage at The Muny, which is celebrating its own centennial. Keep up with Commencement planning and details at webster.edu/commencement.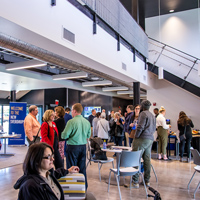 Sverdrup: Reimagined and Renewed
In Fall 2018 the University reopened central core of the Sverdrup Complex, the home of the School of Communications. Each remodeled space has a unique design, setup, and function to facilitate student and faculty interaction across disciplines, media and specialty. 
View highlights and an inside look here.
Webster Wins Record 7th Straight Pan-Am Chess Championship
During the 2018-19 winter break, the University's chess team won a record seventh consecutive Pan-Am Championship. The chess team extended its own record with this achievement, and qualifies for a seventh consecutive "final four" championship of college chess.
Gorloks Win 17th SLIAC All-Sports Award
The University's athletic teams won the St. Louis Intercollegiate Athletic Conference (SLIAC) All-Sports Award for the 17th time in 20 years. The title is achieved through success across all sports. 
Chief Diversity Officer Flewellen on NBC News
NBC News interviewed Chief Diversity Officer Vincent C. Flewellen for its story on the "Witnessing Whiteness" project, which provides spaces for white people to confront their own biases and issues of racism.
Cross Interviewed in AP Stories on Police Shootings
Prof. Remy Cross is a frequently interviewed subject matter expert on criminology, policing and protest behavior. One of the widest ranging stories quoting him in 2018 was an Associated Press story about a controversial police shooting after a "swatting" hoax in Kansas. 
Webster Noted for Global Innovation
"Innovation in global engagement goes beyond the student experience," and Webster's opportunities for faculty are a prime example, according to a widely read column in the Huffington Post.

Taffa on Native American Women
Another far-reaching Huffington Post piece was Prof. Deborah Taffa's column about the advances of Native American women, now in Congress after attaining the right to vote 70 years ago. 

Webster Noted as a Top International University
In this story, Forbes Magazine listed Webster University as one of the top U.S. universities with international branches.

WILLOW Project Success in Associated Press
Prof. Anne Geraghty-Rathert's Willow Project, which provides legal advocacy on behalf of wrongly convicted women who are victims of abuse, had a major breakthrough in 2018, garnering coverage by the Associated Press in multiple outlets.
tags:  global, home page, webster life, in the news, webster today,
News by Topic
Tag Categories
News by Topic
Tag Categories