BFA Students to Perform Choreographic Concert 'Liminal' Oct. 10-12
Sep. 30, 2019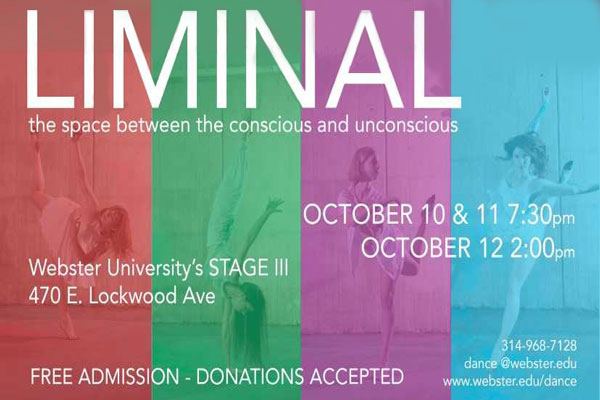 The choreographic work of senior Bachelor of Fine Arts Dance candidates Chrissy Clair, Kendall Heuman, Paige Van Nest, and Jane Tichy will be presented in the BFA dance cancert Liminal on Oct. 10-11, at 7:30 p.m. and Oct. 12, at 2 p.m. The show will be held in Stage III, in the lower level of Webster Hall. The performance is free and open to the public, though donations are accepted.
About the Dancers
Originally from the Springfield, Illinois area, Kendall Heuman started dancing at age three with Dance Arts Studio Inc. In addition to training with Webster, Heuman trained at Eisenhower Dance Detroit's New Dance Fest where she worked with Artistic Director Stephanie Pizzo. She danced in numerous productions with The Springfield Ballet Company and The Springfield Municipal Opera in Illinois, as well as at the American College Dance Association Regional Conferences and Webster University Dance Ensemble.
"I will be choreographing a solo that plays with oppositions, inspired by The Winged Victory of Samothrace," said Heuman. "I chose concepts that are very close to my heart; a mother and daughter relationship and Alzheimer's disease. While watching these pieces, I invite the audience to take a break from their day to day lives to consider these relatable concepts."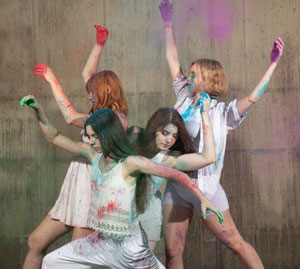 Chrissy Clair grew up in the small town of Park Hills, Missouri, where Clair began dancing at Ballet Arts Center in Farmington, Missouri, under the direction of Kimberly Gavin Anderson. Clair was a member of the Young Peoples Performing Arts Theatre Company and also studied at the Center of Creative Arts in St. Louis. 
"My work for this concert is a way of expressing my political beliefs through movement," said Clair. "In my group work, I am exploring the power of a group of women who can support one another in sharing the political burdens of fighting objectification."
Jane Tichy grew up in St. Louis, Missouri, and began her dance training at the Dance Center of Kirkwood at age nine. In addition to Webster University Dance Ensemble concerts, Tichy has performed at the American College Dance Association Regional Conference and had the opportunity to perform one of her works in Webster's annual Diversity and Inclusion Conference.
"My pieces explore the relationships that we form throughout our lives," said Tichy. "The close-knit ones and the ones that only last a short time are all part of an intricate web we weave throughout our lifetime. The many paths we cross form connections to our future which I am interested in exploring."
Paige Van Nest is originally from St. Louis and began dance training at Arts in Motion School of Dance. Her training outside of Webster includes Nashville Ballet, The Big Muddy Dance Company, and Hubbard Street Dance Chicago. In addition to performing as a part of the Webster University Dance Ensemble, Van Nest has also performed at American College Dance Association Regional Conferences
"I think all of my works are similar in that they are about the human experience," said Van Nest. "I have always been very interested in the question of what it means to be human, so I think that inclination and exploration have naturally come out in my work."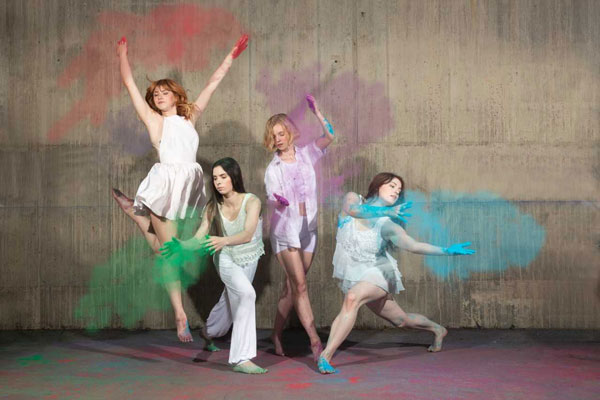 Leigh Gerdine College of Fine Arts
The Webster University Leigh Gerdine College of Fine Arts is a nationally selective and prestigious college led by renowned artists. For more information on Bachelor of Fine Arts visit webster.edu/fine-arts.
For information on the Department of Dance, call 314-246-7747, email dance@webster.edu, or visit the department website at webster.edu/dance. 
tags:  webster life, webster today, college of fine arts, students, home page, dance, department of dance,
News by Topic
Tag Categories
News by Topic
Tag Categories